We arrived at our local Apple Store for the Leopard World Premiere a bit after 5:30 this afternoon and were about 50th in line.
The crowd didn't seem as frenzied as the one for the iPhone launch this summer, but folks were just as happy to be in line.
The threesome up at front said they had arrived at 2. The next person to queue up after them came at 4, they said.
For the three of them, this was their first time to wait in line for an Apple event.
"We're newbies," said one. "Virgins," said another. A gentleman wearing a black Apple cap behind them nodded appreciatively.
For the couple behind us in line, this was their first time too. "Our house is full of Macs, so we are buying a family pack," they said.
We saw lots of folks using iPhones but no MacBooks.
By the time the doors opened at 6, at least 150 people were waiting to get in.
We entered to cheers of store employees, who handed us tasteful black Leopard T-shirts (free to the first 500! they said).
Unlike the night of the iPhone launch—when buyers came in, bought their phone (or phones), and left—tonight, lots of Leopard customers were gathered around Macs, getting demos of Leopard.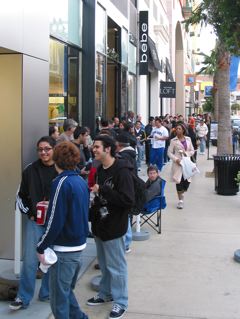 The front of the line.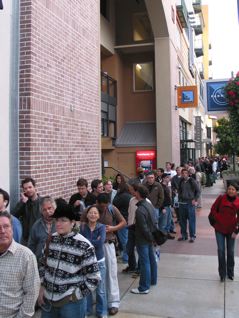 Looking back from our spot in line.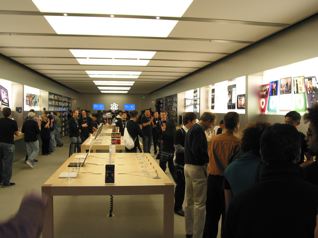 We are in!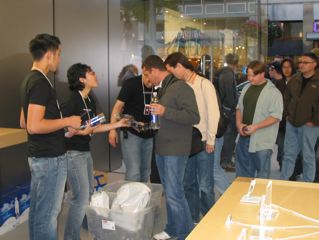 Handing out the T-shirts. That's customer service!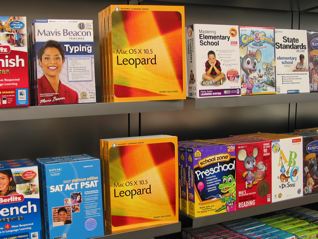 Queuing up to buy Leopard.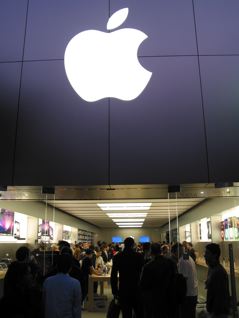 Looking back at the store as we leave.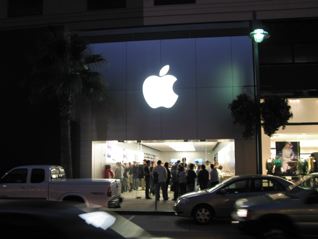 When we left the store about 45 minutes later, the line outside was down to about a dozen people.