We've used the Book feature in iPhoto many times to create coffee table books from vacation photos, invitations for special events, and as portfolio samples. Beautiful as the iPhoto templates may be, you just might stumble into a design project that requires more design flexibility than a template-based solution offers.
That's the situation I found myself in when a woman called for help setting up her new all-in-one scanner/printer. Robin was busy so I drove to Barbara's house to show her how to use the scanner and how to organize the images on her new iMac. It turned out that Barbara had hundreds of photos to scan of needlepoint art that she had designed for churches, cathedrals, and private collections for the past 40 years. And for the past 30 years she'd fantasized about publishing a book about her needlepoint career, mainly so she could have an heirloom document for her family.
I knew that the iPhoto Book solution would be too limited in layout options, so I searched online for other print-on-demand publishers. I found several photographers who'd used Blurb.com and gave the service good reviews.
Blurb provides downloadable InDesign templates, in several sizes, for hard cover and soft cover books. Dust covers are optional for hard cover books. Using Blurb's InDesign template, which basically includes only the required trim and bleed marks, I was able to do anything I wanted with layout and design. Blurb provides some nice-looking pre-designed templates that you can use, but if you already know InDesign, you can skip the frustration of learning how their templates work.
Above, a sample double-page spread from InDesign.
Once you've completed the design, you create a PDF and upload it via the Blurb web site. Be sure to check Blurb's PDF specifications so you create a Blurb-compatible file. After the file is received, an automated system checks the file and notifies you if something is not right.
Book prices are based on page count. You can order one book or as many as you want. There are some volume discounts available, but I envision using this service for when I want one or several copies of a book. It's a great way to keep a collection of art or photos. If you have a special client presentation to make, leave behind a book. If you want to create an original children's book for your child or someone else's, this is a great way to do it.
Below, Blurb's home page. Read the help files carefully to make sure your uploaded files are prepared correctly.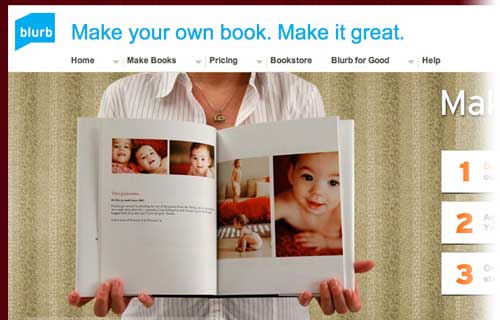 Once your files are accepted by Blurb.com, anyone can search for it on Blurb's site by title or author (unless you specify that the book be kept private). Below, a search for "A Life in Stitches" shows the book cover, a link to the purchase page, and a preview button.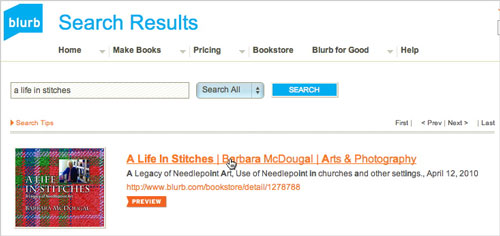 Clicking the book title (above) takes you to the purchase page (below). The price, $77.95, isn't cheap, but it's amazingly affordable for what we got: a 72-page, full-color, hardbound book with high quality paper and a full-color dust jacket. I doubt that you could get a 72-page color xerox book for that price at your local print shop.
The price shown on the web page below is Blurb's price, but you can set the price at any amount you want and have Blurb pay you the difference when (and if) books are ordered from the site.
Above: shoppers can click the orange "Preview Book!" flag to preview the first 15 pages of a book.
Below: samples from Blurb's online book preview.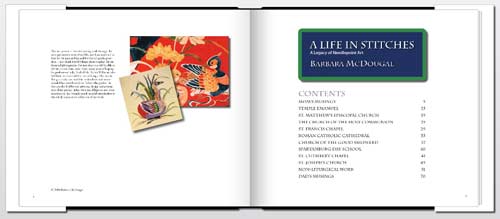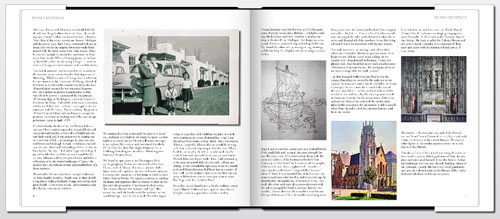 You can find other sites that provide a similar service, but being able to use a program I was already familiar with, InDesign, made the project much easier. The quality of the delivered books delighted the client, a long-time dream come true.
So, if you need a snazzy presentation for a client, a unique gift for someone, or a special memento for yourself, consider designing an online print-on-demand book.