Question: How would you show the rain a little better than in this photo and still show the runners well? What settings would you use for this photo?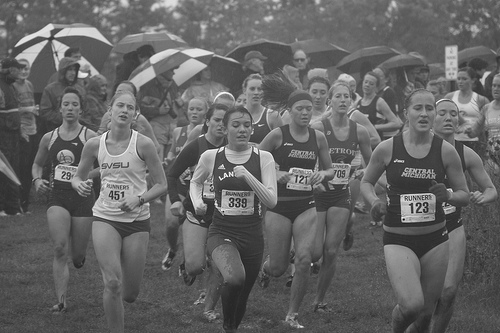 Answer: The settings seem fine to me. Good picture, good depth and sharpness. Don't know if the rain was coming in heavy drops or more like a mist, but one thing you can do is shorten your shutter speed, i.e., make it faster. That way you can freeze the water in the air. If there is a bit of movement in the rain, occasionally it can actually disappear. One way to get across the rainy day is to think like a journalist, and in addition to this type of overall, go for details. Sneakers, viewed tightly, hitting and splashing on muddy ground, strained faces, wet with sweat and precipitation, or wide views where you get the camera up above the field of umbrellas, and they are in the foreground with runners in background. All these will send powerful messages about a rainy day....
Ask me a question so I can answer it in a future post on this blog.

Best, Joe

[Editor's note: See this photo and additional photos on Joe McNally's Q&A Flickr group.]