If you waited in line last night to buy the slick new Apple iPhone 3G this morning, you're probably now discovering all the wondrous features, such as the improved audio quality, true GPS, and the ability to surf the Web while you talk on the phone (hence, the "3g").
But keep checking for new applications built for the iPhone because it's just going to get better. For instance, AOL launched a trio of cool apps today: AIM for instant messaging, AOL radio, and Truveo, one of the most popular video search engines for the Web.

Truveo is going to make it a lot easier to find that footage of the Giants game on ESPN last night or the episode of "Land of the Lost" you and a friend are having a heated debate on over the phone. (Remember, with the 3G cellular service from AT&T you can now watch streaming video while you talk.)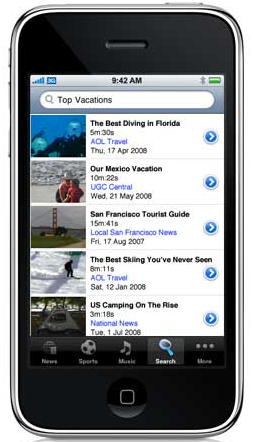 The new phone went on sale today in 22 countries and for many, this is the first time the iPhone is (legally) available for sale. Check out Cliff's photos of our local Apple Store near Peachpit!