Question: On the Coast Guard swimmer shoot, how did you protect your camera and SB's from the spray? How about cleanup afterwards?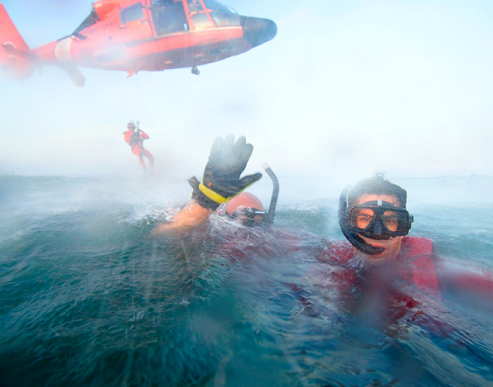 Answer: Yikes....that was a corker of a shoot. It was Brad's very first assignment out there with me, and he didn't know the system real well. Thankfully, Tom Sperduto of the Coast Guard was on board the small boat Brad was trying to light from. He had an SB 800 on a boom pole out over the water, and I'm trying to trigger it while I am in the waves. Not smart, but fun trying. Poor Brad cracked his head on the boat reaching to get the light out there. He might have had second thoughts right there, but he stayed with me for the next couple years.

As far as protection for the camera, there was none. There should have been, but I just got out into the surf with an air mattress and tried to keep the camera dry that way. Didn't work. I toasted the camera and it needed full blown repair. The thing is, I've always been willing to risk losing the gear for a shot, and I wanted maximum mobility and access to the buttons and dials while I was out there shooting. I didn't get the picture I was looking for, but that just means I'm gonna do it again sometime.

Ask me a question so I can answer it in a future post on this blog.
Best, Joe