Use keyboard shortcuts to navigate Lightroom 2's Basic image adjustments panel and you'll be spending less time in front of the computer and more time behind the camera!

To start, select an image from the Library or Filmstrip that you wish to adjust with the Develop module's Basic image adjustments.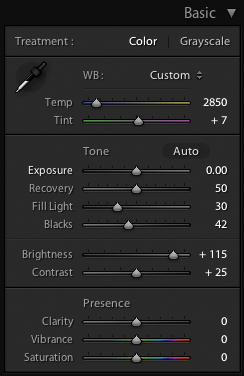 Use the
Period (.)
and C
omma (,)
keys on the keyboard to target each of the adjustments within this panel. Simply tap the Comma key to move up the list of adjustments and tap the Period key to move down them. With each tap of the Comma (,) or Period (.) key you'll see the adjustment highlighted within the panel. Once you've settled on an adjustment that you wish to modify, use the
Plus (+)
or
Minus (-)
keys to incrementally move the adjustment in small units of 5 to 10, depending on the adjustment choice. If you wish to double the incremental change, hold down the
Shift
key as you tap in the Plus (+) or Minus (-) keys.
Use these keyboard shortcuts to move around Lightroom 2's Basic adjustments panel and you'll be able to fly through your image-editing work and get back to doing what you really love: shooting great photos.
Check back here each day this week for more Lightroom 2 tips.
And for more on Lightroom, be sure to check out my book
Lessons in DSLR Workflow with Lightroom and Photoshop.