A teaser ad on Apple's Web site posted a couple of days ago announced the theme of Macworld 2008: "There's something in the air." In this morning's keynote address, Steve Jobs made clear what that "something" might be: increased reliance on wireless connectivity in Apple's new hardware offerings.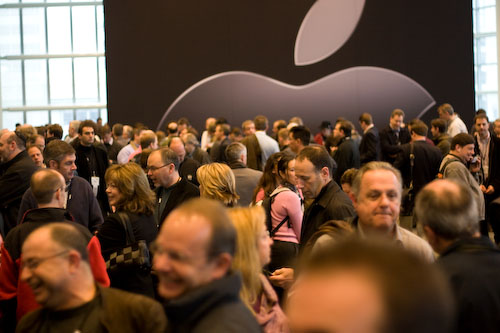 Jobs kicked off the proceedings by unveiling two new hardware products, both of which had more or less been predicted by industry observers. In both cases, however, reality exceeded expectations.

First off, Jobs unveiled Time Capsule, a device that combines an AirPort Extreme wireless base station with a networked hard drive in one box.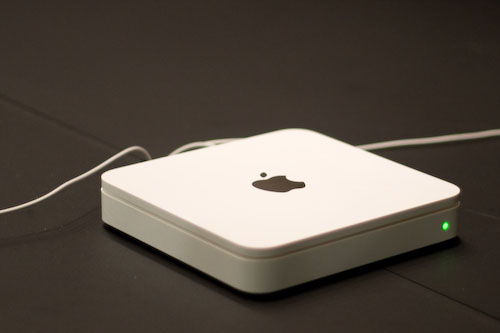 Its principal function is to serve as an automatic backup device for Macs running Leopard (Mac OS X 10.5) and using its Time Machine feature. Wireless devices (such as Mac notebooks) with Time Machine switched on will be backed up whenever they're within range of the Time Capsule's network, without needing to be connected physically. Like the AirPort Extreme base station, Time Capsule also provides numerous ports for connecting the old-fashioned way, using USB 2.0 and gigabit Ethernet. The standard version of Time Capsule contains a 500 GB hard drive and costs $299; a 1 TB (terabyte) model costs $499. Both will be available in February.

To close the morning's announcements, Jobs finally took the wraps off the long-expected slimmed-down version of the MacBook, which has been christened the MacBook Air.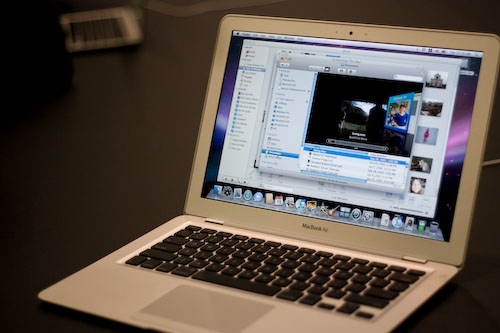 To dramatize its slender profile, Jobs brandished a standard inter-office envelope that was shown to contain the machine. In a remarkable feat of engineering, most of the internals of a standard Mac have been squeezed into an elegant aluminum package that ranges between 0.76 and 0.16 inch thick and weighs a mere three pounds.

Unlike some slim PC notebooks that use a severely compromised CPU to economise on battery life and cut down on heat generation, this machine incorporates a full Intel Core 2 Duo chip (running at 1.6 GHz with 1.8 GHz as a $300 option) encased in new packaging that is a fraction of the size of standard chips. Apple claims a remarkable five hours of battery life. An 80 GB hard disk is standard; and a 64 GB SSD (Solid-State Disk) is available for an astronomical $1,000. (Even Jobs admitted that it's "pricey.")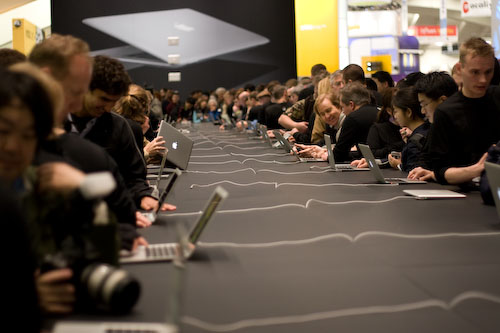 The machine also boasts a full-size 13.3-inch display (same as in the MacBook) that uses LED backlighting, a full-sized keyboard (also backlit), and an extra-large touchpad. The latter is the key to one of the MacBook Air's most innovative features: it supports many of the same multitouch gestures as the iPhone and iPod touch.

The new machine does give up some features to attain this svelte profile: physical connections are pared down to a USB 2.0 port, headphone jack, Micro-DVI video connector, and MagSafe power connector. Obviously, it is assumed that users will depend more on wireless connectivity (there's that "air" thing again) than on the wired variety. An internal optical drive is out of the question, and Apple does offer an external USB SuperDrive ($99), but Jobs took the bold step of assuring the audience that they won't need it. The MacBook Air uses a new feature called Remote Disc to co-opt the optical drive in another networked Mac to play movies, install software, backup files or burn discs. To me, this is reminiscent of the omission of the floppy drive from the original iMac back in 1998. It once again shows Apple discarding conventional features to prepare for the future.

The MacBook Air will be available in 2 weeks, and can be preordered today for $1,799.

It has become something of a tradition for Jobs to close his keynotes with a guest musical performer, and this year he did not disappoint. The audience was treated to a brief appearance by Randy Newman, award-winning composer of the scores of numerous Pixar films (among many other accomplishments).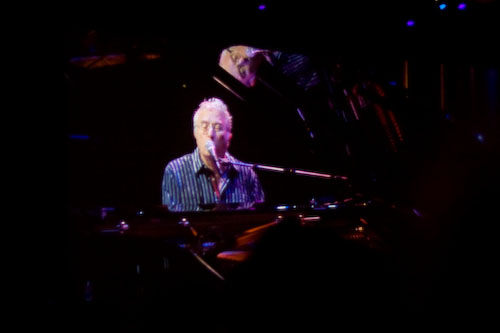 After a rousing political satire, Newman closed the proceedings with a performance of "You've Got a Friend in Me" from Toy Story.