When we started our careers in graphic design, only people involved in the design and publishing professions knew the names of fonts. Fast forward approximately four decades: almost everyone has a better type collection than our local typographers had, and now we're buried up to here (hand on forehead) with Helvetica.
Helvetica is a beautiful font. It's so versatile. Helvetica is named Arial on PCs (they're virtually the same font). You can use Helvetica for just about any identity and it always looks good (see the examples below). If you're a designer working on a logo design, product branding, or corporate identity, you can always include a straight Helvetica version and know that it'll look just as corporate, just as sophisticated, just as safe, and just as boring as boat loads of existing identities.

Each of the identities below look nice on a letterhead, in an ad, on signage, or on the side of a vehicle. But they all have exactly the same personality. You could argue that this example just proves how flexible Helvetica can be. Good point. True enough. Mind if we add a couple of other adjectives? Boring, overused.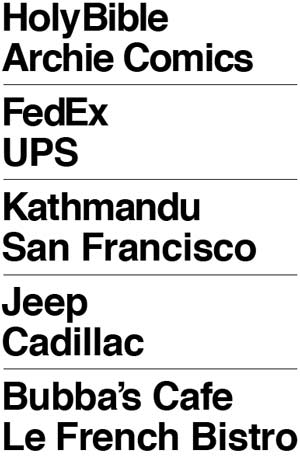 There are so many Helvetica design solutions in the graphics world, that it becomes a joyous visual treat (for some of us) when we see a sans serif solution that doesn't use Helvetica. It's not just that Helvetica is ubiquitous, it's also the subliminal messages that Helvetica conveys: "Hey look, it's the 1970s again," or "Do I look like everyone else yet?" or "This is the only sans serif font I have."

If you're looking for a sans serif font to convey elements of the corporate world or a contemporary personality, try looking past Helvetica. For example, consider the Vancouver Winter Olympics, and their choice of Charlotte Sans to give their identity a world-class look. Just the fact that it's not Helvetica makes the mark seem more relevant to our current decade.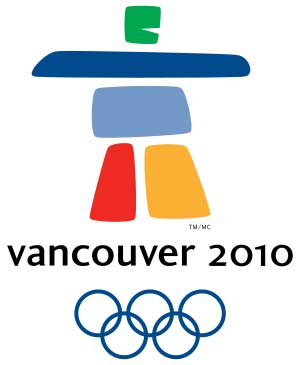 The elements that make this mark compelling are simplicity, color, and the use of a font that's refreshing in its non-ubiquitousness.

Now, if designers jump all over Charlotte Sans for the next 50 years, like many did with Helvetica, we'll be tired of this font too. But for now, you can successfully design a 21st century logo (as shown below) by applying the principles demonstrated here: simplicity, multiple colors, and Charlotte Sans.
Without doubt, some great designers are using Helvetica effectively to create great design. There's currently a very popular and successful theatre production in London that uses Helvetica graphics — WarHorse.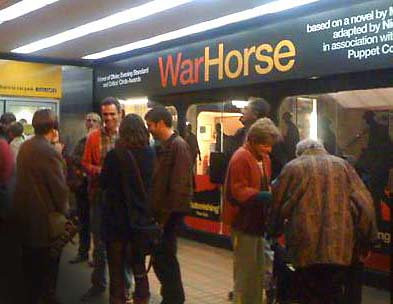 Robin and entourage at the New London Theatre.
The WarHorse Helvetica title design creates a nice graphic. However, since the play is about an English farm horse drafted into the military during World War I, there's a noticeable emotional and time-period disconnect between the sterile graphic design and the very emotional play it represents. A great play, by the way.

The signage of many pubs in London look a lot like this, probably because sign companies have easy access to pre-fab, three-dimensional cut-out letters of Helvetica that they can slap up there. Not bad looking. Just very generic, plain vanilla, and boring.

I wonder how many pubs and taverns are in London? And how many use Helvetica?
Another pub example, below: The sea horse, a pub in London (during Shakespeare's time this was the location of the Mermaid Tavern, a hotspot —not the WiFi kind — for some of the Elizabethan era's leading literary figures). In this case, the designer chose not to doom his logo to life as a Helvetica nobody, but instead projects a uniqueness that can only be achieved with a non-Helvetica type treatment. We're so used to seeing Helvetica used everywhere that even the most subtle variations in sans serif designs catch our attention and look interesting.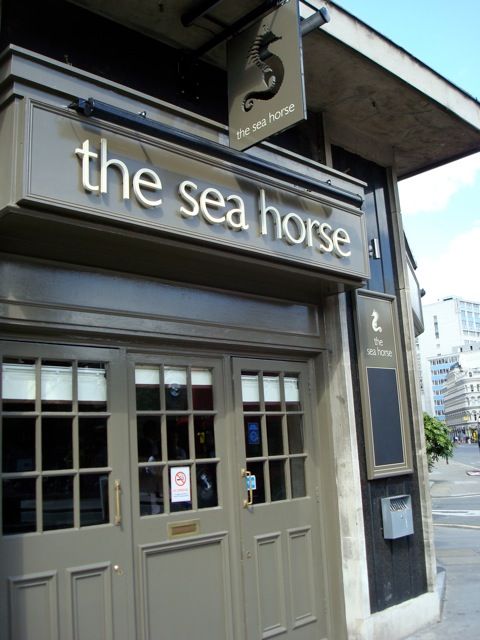 The sea horse owners didn't realize their pub is located in the same spot as the historic and famous Elizabethan pub, The Mermaid Tavern.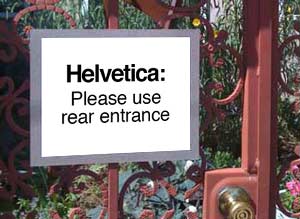 We're not as anti-Helvetica as it may sound. We actually use it for signage ourselves, sometimes.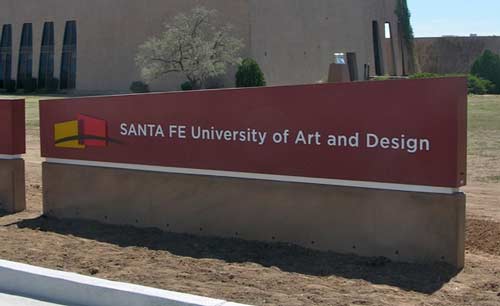 New signage. Thank you Santa Fe University of Art and Design for not using Helvetica.
To be fair and open-minded, below are links to a couple of interesting web sites that feature Helvetica:

LoveHelvetica.com is the very attractive work of a graphic artist whose "passion for Helvetica knows few boundaries."
Webdesigner Depot includes a collection of "40 Excellent Logos Created with Helvetica." Worth a look.
A tip from Robin: "The thing about Helvetica is that the great design work you see with it are rarely, if ever, made with the limited font family that comes with your computer. If you invest several hundred dollars in the entire family, and you're a trained designer, you can create some nice-looking work. Personally, for me, it's still Helvetica."
There are many sans serif fonts that can serve as an alternative choice for Helvetica. We'll put together our list of favorite Helvetica alternatives in another posting. Meanwhile, here are two Helvetica inspired fonts that aren't really viable replacements for Helvetica, but they may add some interest to one of your design projects someday.
Schmelvetica is a grungy, goofy take-off on Helvetica.
Helwoodica is a free OpenType font, offered by dafont.com, designed for TimeForClimateJustice.org. It's fashioned after the woodblock printing of lowercase glyphs of Helvetica. Grungy.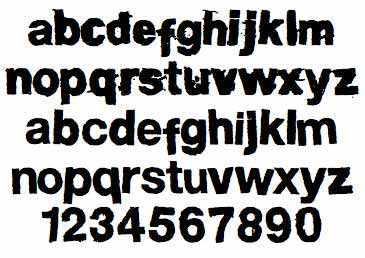 Helwoodica, the font.
Hasta la vista from Santa Fe, London, and Beyoooooooond!