Question: How did you get that shot of the ballerina on Nikon World? Is that just a composite? Did you shoot it all with a strobe?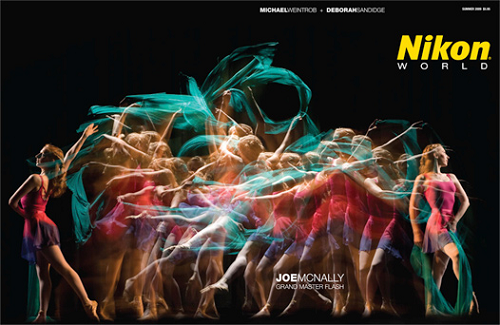 Answer: The ballerina shot was done in camera as a triple exposure programmed into the Nikon D3. It was shot wireless flash, using all 3 groups of the Nikon CLS, A, B, C. The start position was on the left and was lit with 2 SB 900 units through Lumiquest 3.0 soft boxes which in turn fired through a vertically arrayed Lastolite 3x6 Skylite Panel. That combo produced the first of the three exposures, where the ballerina was at rest.

The second exposure was about 4 seconds or so, while she was moving. Overhead are arrayed 4 SB 900 units set of repeat flash, or stroboscopic. You can direct the remotes rate of fire and power right from your commander flash on the camera. Very cool. The strobo effect is determined by figuring out your herz (how many times the flash will fire in one second) as well as the total number of time the flashes will fire. Say you want to flash 10 times per second, with a total number of 40 flashes max. Ten divided into 40 gives you your rough shutter speed....4 seconds.

The third exposure was an exact mimic of the first. Two flashes, two Lumiquest soft boxes, one vertical panel.

All of the above was directed wirelessly from the camera. First exposure was group A, second group B, and third group C. All of it was done in camera.

Hope that is helpful.
Ask me a question so I can answer it in a future post on this blog.