I use the Dictionary/Thesaurus application so much that I put it in my Dock and leave it open all the time instead of taking the extra click to get to the Dashboard. But there's an even faster way to find the definition or synonym of a word—the Dictionary panel.
As you see in the screenshot from yesterday's tip, the contextual menu in an Apple app also displays an option to "Look Up in Dictionary." This opens the Dictionary application with the selected word displayed. But even easier and faster is the Dictionary panel.

To enable the panel, first open the Dictionary (it's in your Applications folder). In its Preferences, click the button to "Open Dictionary panel." Close the prefs.

Now Control-click or right-click on a word in Mail, TextEdit, a Safari page, a Note or To-Do item, or on text in any Mac app. In the contextual menu that appears, choose "Look Up in Dictionary." The tiny Dictionary panel opens right there—instantly—with the definition, plus the option to find the word in the Thesaurus or to look it up on Apple's site if appropriate. Or click "More…" to open the Dictionary itself with access to Wikipedia.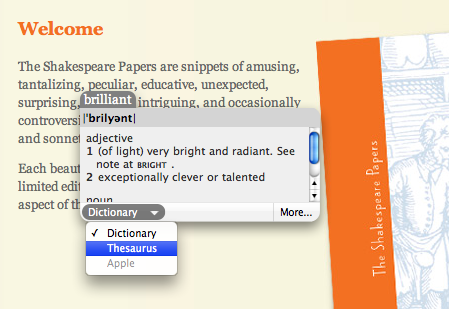 Check back here each day this week for more Mac OS X Leopard tips.

And for more on Mac OS X 10.5 Leopard, be sure to check out my books Mac OS X 10.5 Leopard: Peachpit Learning Series, The Little Mac Book, Leopard Edition, and Robin Williams Cool Mac Apps: Twelve apps for enhanced creativity and productivity, Adobe Reader, 3rd Edition.