Cleaning out the garage can provide a nostalgic trip down Graphics Memory Lane, plus stir up lots of ideas for new projects.

Ninety-five percent of everything in the garage turns out to be junk, as you'd expect. But we also stumbled across old samples of design and advertising projects, sketchbooks, and paintings.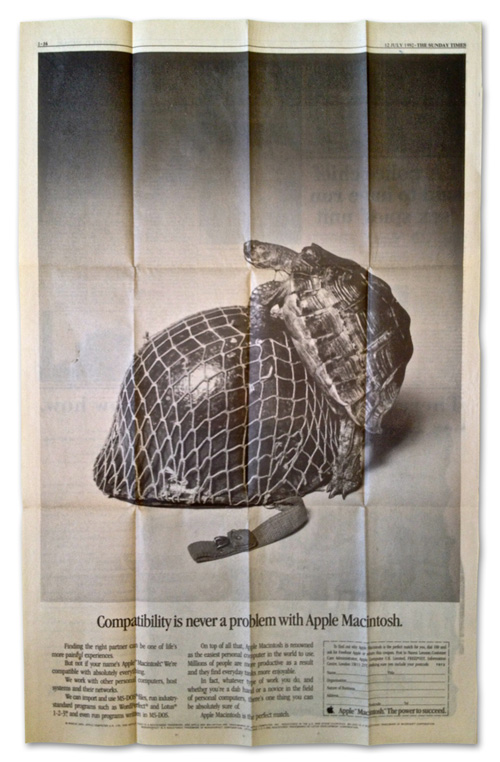 Robin found this full-page newspaper ad for Macintosh that appeared in London's Sunday Times on July 12, 1992 (from Apple Computer U.K. LTD.). European advertising has always been more willing to raise eyebrows than USA ad agencies, as evidenced here.
Now that Mac is no longer a "small market" product, you probably won't see this sort of humor in their advertising again, so enjoy.
The copy ends with "In fact, whatever type of work you do, and whether you're a dab hand or a novice in the field of personal computers, there's one thing you can be absolutely sure of. Apple Macintosh is the perfect match." We're not familiar with the phrase "dab hand," but it might make a good Mac consultant business name: Robin&John, Dab Hands.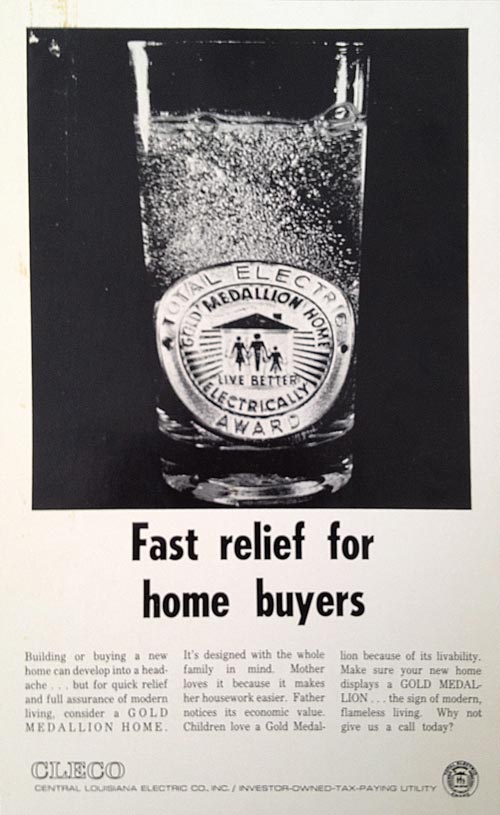 Above, the first ad John ever created (circa 1965), working part time as a college student in the art department of an electric company. Yes, there are lots of horribly yucky things about this ad: the headline set by the local letterpress printer, body copy set by a secretary with a Varitype machine (but it can justify left and right!), and a hatchet job of photo retouching. But most of us have rocky starts, right? Stop laughing, please.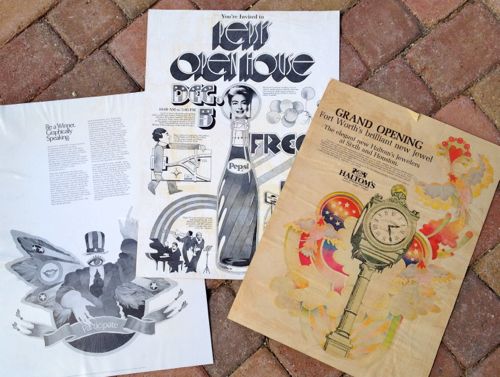 From the '60s and '70s: Call for Entries for the Dallas/Ft. Worth Society of Visual Communications Student Show; Ad for a Pepsi bottling company open house; ad for a Ft. Worth Jewelry Store.
We found lots of aged, crumpled, stained portfolio pieces (see the sampling above) that we used to carry around in leather portfolio cases. Do you realize how much a leather portfolio full of ads, annual reports, and brochures weighs compared to an iPad? Hmmm, the wrinkles and stains actually help the appearance of these ad artifacts.
As we looked through all this stuff, John decided to archive it in the fastest way possible: iPhone photos. And perhaps even repurpose some old things into new projects. For instance, some of the paintings and illustrations could be used in a coffee table book or used for an online portfolio.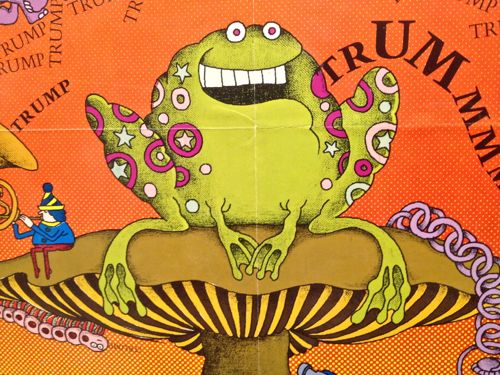 John shot this iPhone photo (above) of a poster he designed years ago (announcing the availability of the Trump font for a type house), then retouched it in Photoshop (below). He applied applied the Graphic Pen filter and the Poster Edges filter (from Photoshop's Filter Gallery) to a duplicate layer, then set that layer to a blend mode of "Multiply."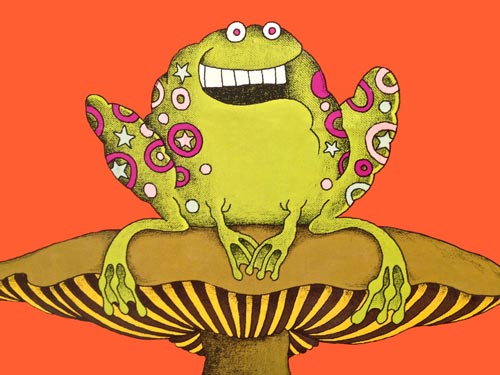 Photoshop's Brush tool and Clone Stamp tools are used to get rid of the wrinkles, creases, text, and background pattern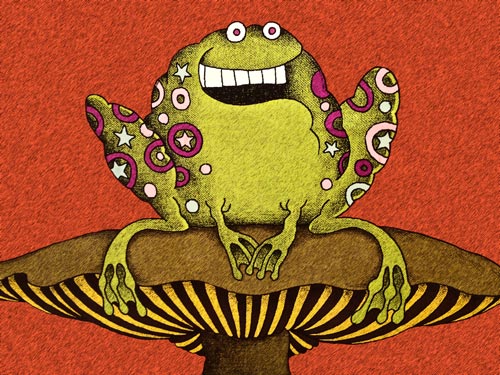 The Graphic Pen filter adds texture and richness to the somewhat stale image.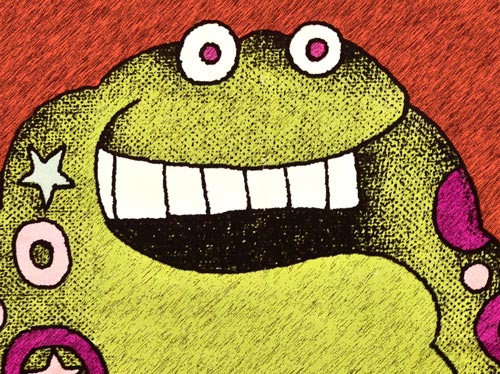 Detail of the Photoshop filter effects.
In addition to the commercial art samples, the old canvases and sketchbooks have lots of potential for fine art projects, with the help of Photoshop. Or perhaps another coffee table book (as in iPhoto books).
A damp cloth to wipe away the dust and cobwebs, then an iPhone photo, and we're ready for Photoshop.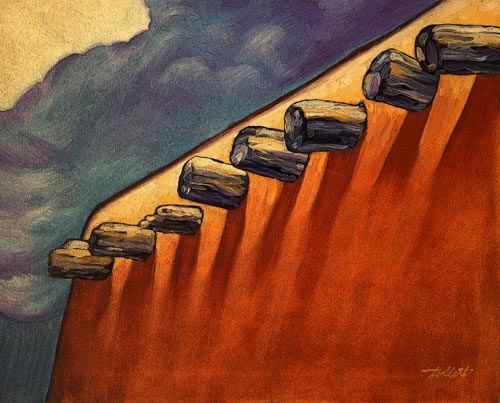 John applied the Watercolor filter to a duplicate layer, then Poster Edge to another duplicate layer. He adjusted the opacity of each layer to taste, then set the top layers (above the original) to the Multiply blend mode, making a much more dramatic—and graphic—visual image.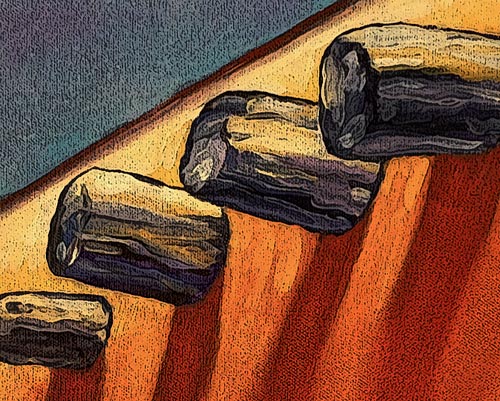 Detail of the final effect.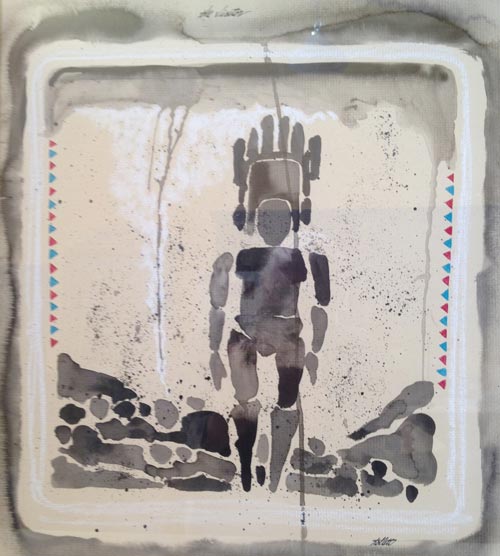 An iPhone photo of an ink wash and white chalk drawing is looking the worse for wear, but Photoshop rescues it with the Accented Edges filter and a healthy dose of Unsharp Mask (below).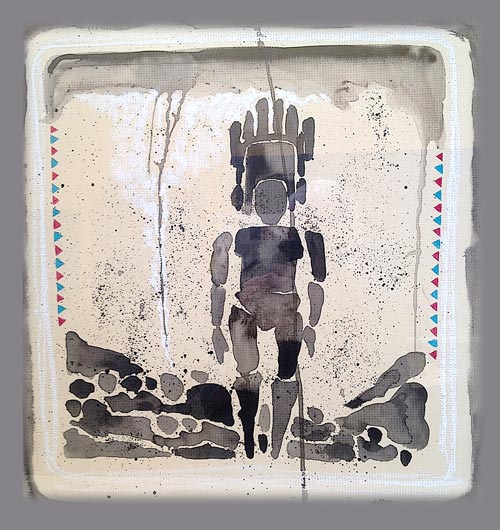 You'd never know this art is on a raggedy, weathered matte board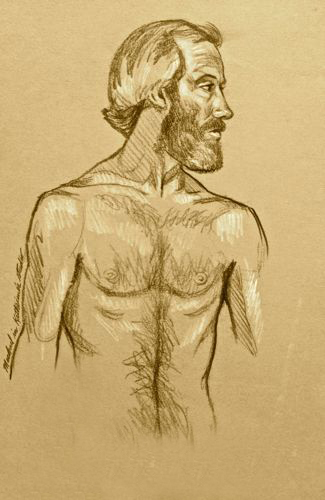 Lots of old sketchbook drawing dating back to the 70s to be enhanced, then printed to canvas (or used in any other way you can think of).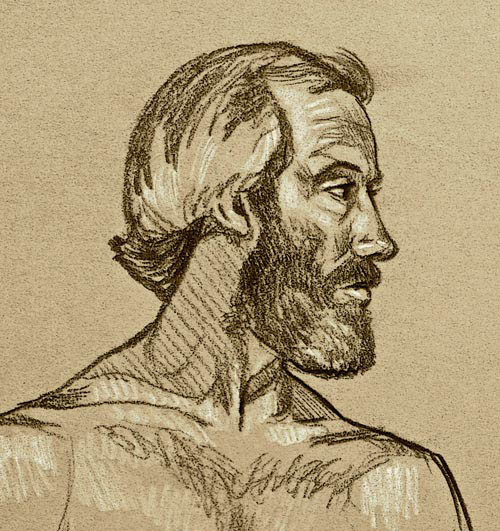 In Photoshop, John made adjustments to the color, increased the black level in the Levels dialog to emphasize the line work, and applied the Poster Edges filter.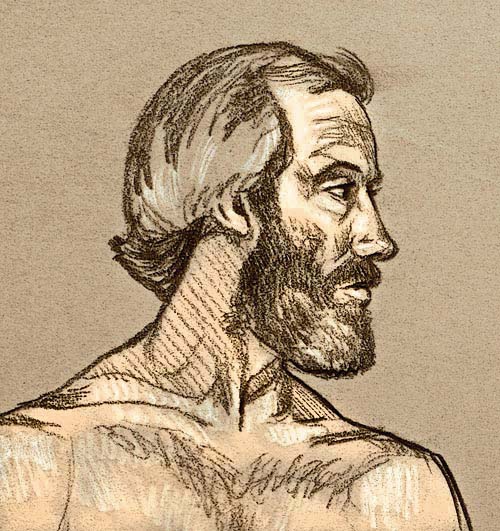 For a final touch, the Dodge tool was set to "Highlights" and used to lighten the skin tone areas.
In a future blog we'll show how a series of canvases evolved from this garage-junk experimentation. Chances are probably pretty good that you too have some old stuff hanging around that can be repurposed for a design or fine art project. Using a really good camera is best, but as you can see, you can do a lot with a hand-held iPhone (we used the iPhone 4S), and available light.
We'd show you some of Robin's old graphic design projects, but she worked for a pornographic video company. She learned a huge amount about color printing and production, but Peachpit probably wouldn't like to see it on this blog.
Happy garage cleaning!