In a previous article we showed a couple of examples of typographic design in the form of vinyl lettering adhered to metal. It's beautiful and intriguing, the combination of letters and vinyl and steel, but what really gets to my heart are letters hand carved into stone, such as the astonishing creations of Richard Kindersley.

We met Richard while studying the ancient lettering on temples and monuments in Rome, a small group led by typographers Garret Boge and Paul Shaw. Several years later we were in London and visited Richard at his studio. The studio was full of finished pieces, some leaning against the walls, others mounted on walls. After expressing my awe and appreciation for the beauty, power, skill, and glorious juxtaposition of stone and words, I was fortunate enough to get a personalized day-long lesson in stone letter cutting from Richard.

I spent the better part of an entire day chiseling one letter, the letter I, into stone. It was pretty awful. The stone, especially slate, is completely unforgiving. Every botch and slip of the tool shows up bright and clear, rejoicing at my ineptitude. Both John and I had a deepened appreciation for the art of stone carving (and for the convenience of digital typography).

During the hours of carving my awful letter "I" (with serifs, I must add), I noticed a slab of slate where there were numbers written above each glyph that had been carved into the stone; above the R was the number 6, above the L was the number 3, etc. I asked Richard about them, and he explained that the numbers referred to how many minutes—MINUTES—Richard would need to create each letter in that size on that sort of stone. After having struggled for HOURS to complete a letter "I" (badly) and realizing the "4" next to his "S" meant four minutes, not four hours, I realized I was going to have to find another way to make a living.

sigh.

Richard's work is momentous in its combination of the ephemeral (words, thoughts) carved into stone (permanent, concrete) by an artist/typographer/craftsman and philosopher of great sensitivity.

Below, left: Quotation from St. Francis of Sales, 1567-1622.
Below, right: Quotation from St. Thomas Aquinas, 1225-1274.
Inscriptions are carved and then painted on found pieces of Portland stone with quarry working (the round drill holes on the edge of the stone).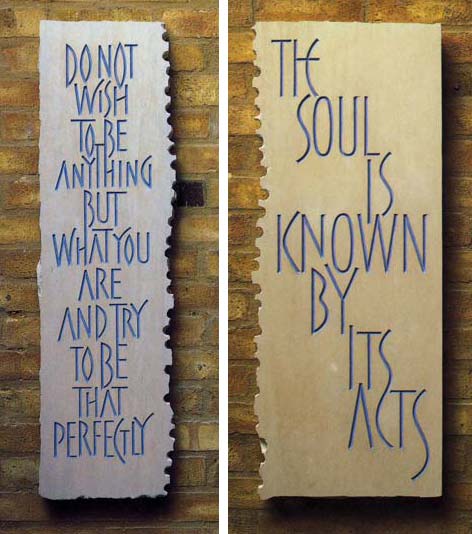 Cast bronze floor numbers for a five-story building. You see these when you get off the elevator. Barclays Bank International.
Each floor level is highlighted in red.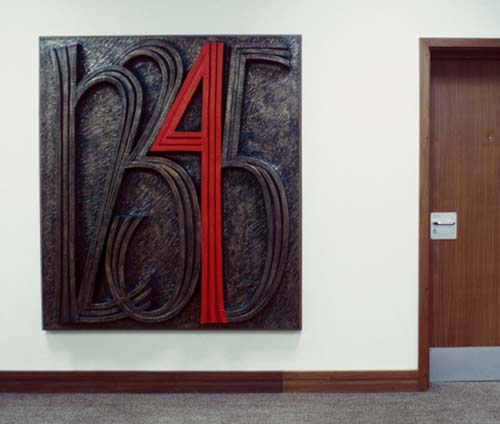 Carved and gilded quotation on Welsh slate.
The Latin quotation reads, "The grace of the sacraments stills the restless ego. Only when we fall still can creativity arise. It is the mystery that links art and the spirit."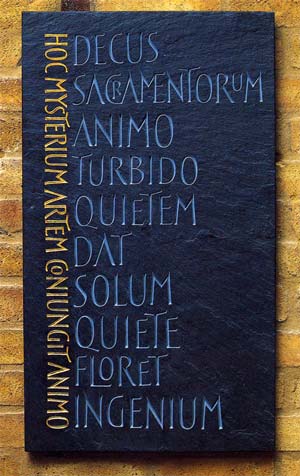 Two riven Welsh slate slabs.
"Be Still" and "Manthane" (Know).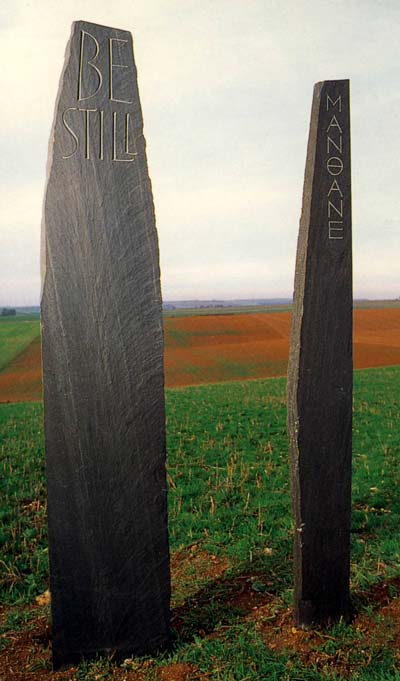 A brick carving for a bridge at Bishop Fox's Community School, Taunton, UK.
The letters, carved and dyed red, flow over the brick to echo the movement of waves on water.
Below, left: riven Welsh slate. The quotation is from a poem by A. Price Hughes.
Below, right: Welsh slate standing stone. "Be Still & Know" (a variation of the slate slabs shown above).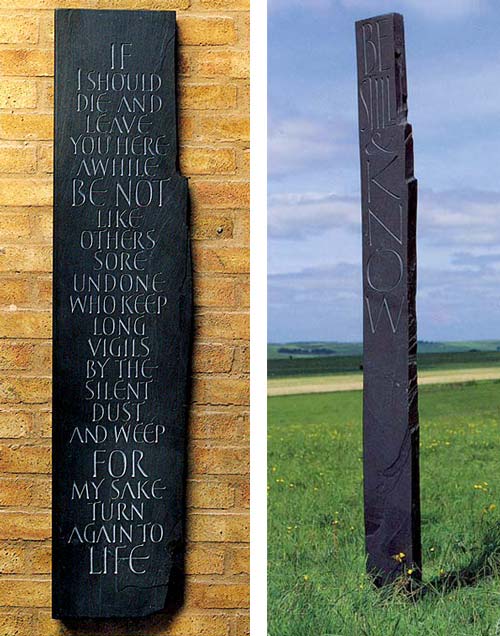 Upon arriving home, I ordered a collection of stone carving tools. I've been too busy all these years to actually practice stone carving, but it is toward the very top of my list. I'm going to start with dog tombstones. My style won't be anywhere near the elegance of Richard's, but I trust that it will be satisfying in my own way. Words and stones. Wow.