Each month we will select one User Group that has been exceptional in their communication with meeting updates, giveaway requests and book reviews and ask them to share some insights and tips with us. This week, we turn the spotlight on Digital Media Artists Los Angeles as our UG of the Month!

Peachpit: As a quick intro, give us a quick background history of your user group.
DMALA has a history longer than its current name. We were the Motion Graphics Los Angeles (MGLA) group, started in 1997. It was started primarily as an educational experience. Different vendors might come to talk about new products they had to offer the community. Artists were also invited to come and discuss their process and instruct users on how different techniques were achieved. As the internet evolved and became a similar venue, the group evolved into a social experience, where members could share in the learning presentation communally.
In 2008, the group changed its name to Digital Media Artists Los Angeles (DMALA) to include many other types of digital artists in our community. Because of the diverse nature of our group, the meetings have varied topics from month to month. The number of attendees at each meeting ranges from 150 up to 300. The meetings usually focus around digital art and imagery, which makes our venue important. For several years, we've held our meetings at the Barnsdall Gallery Theater in the heart of Hollywood, California on the property near Frank Lloyd Wright's Hollyhock House. The theater has a massive screen with digital projection which allows presenters to showcase their work in a large venue - and provides for a fun experience when members offer their own work for our "Demo Reel Night" events.

Peachpit: What type of format do you use for your user group meetings?

Our meetings happen on the Third Tuesday of each month (with some exception), from 7:00-10:00PM. DMALA continues to operate as an inspirational and instructional meeting. Each month, artists and educators from the digital art community come to talk about a new process or recently completed project.

Bad traffic is a cliche of Los Angeles. Unfortunately, it's true that it can often (usually?) take an hour to drive across town. We want to allow members to take advantage of our speakers - so we generally have a social start at the beginning of the evening, starting at 6:30PM. Sometimes we will provide refreshments (pizza is a favored fare).
After an announcement and some discussion of news or Q&A at 7:00, the meeting heads into our first speaker at 7:30. We try to limit 3 sessions per meeting. The first two are 25 minutes, with a third - the headliner artist - for a 40-45 minute presentation.
It's a long evening, especially for those of us who set up (5:30PM), but, surprisingly, by 10:00PM people are still energized and ready for more. The social engagement of the meeting and the energy that people share with each other at the meeting is mostly responsible for their creative charge.



Peachpit: What have you found works best in terms of hosting an informational and interesting meeting? What are a few tips that your user group has learned that you can share with other groups?

FOOD:
Our meetings are from 7:00-10:00pm. It's a long event, but we only have it once a month. In a city like Los Angeles, there are so many students, hobbyists, and professionals who crave more inspiration for their craft, it's easy to interest people. Unfortunately, it's difficult to maneuver around the city. Because our meeting is on Tuesday, it's "After Work". The definition of "After Work" could be 6:00, 7:00, or much later. I think that a mid-week meeting is good for this time. We have the benefit of a theater's concession stand. Otherwise, I would strongly recommend that groups provide food for their members at this time. Snacks work. A sated audience is more engaged.


LAUGHTER:
It's hard to run a user group meeting. I have admiration for anyone who does it. Whether it's 15 people or 150 people - organizing the event isn't just a cocktail party. (maybe it should be?) Attendees have an expectation to learn something new. Sometimes it's challenging to put these together. Don't stress out. Have fun and your attendees will have fun too!

COMMUNITY:
Make sure that people get there for people. So much can be found online these days. Even Peachpit publications are offered as epub versions. The tangible connection that you get from the people around you - who share in the same excitement you get from learning, making, sharing - that can't be replaced by an online meeting either. Make the members an active part of your meetings. Not just with Q&A. We have a demo reel night several times each year. Members present their own work. This year, we'll have more members come to present their works too.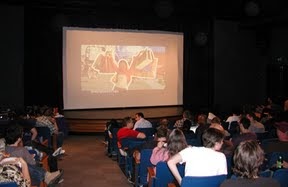 Rote? Maybe. But those are the generic bits that I pass to anyone attempting to start up a meeting.


Peachpit: Let's talk logistics - How many members do you have? How do you communicate? (Weekly emails, newsletters, events, social media pages, forums?)

DMALA turned 15 last year. As we move into our 6th year with a new name (and even with a mail server crash), we have over 4500 subscribers to our newsletter. Some of those people are from out of town, out of state, or even in different countries. Over 90% of our newsletter membership have come to at least one meeting in the past 3-4 years. Generally, we have around 150 people come. On some big nights, we'll have a full theater (310 seats).



I try to keep up with our members through two or three newsletters per month (a link to our event schedule). That comes as an invitation to our Eventbrite page: http://dmala.eventbrite.com.
In addition to the event page, I maintain a twitter page http://twitter.com/dmala. Our hosts also moderate our Facebook page: http://facebook.com/groups/motionla.
This year - this month - we started a new site on wordpress to replace our old CSS pages and with it a regular Facebook page. http://dmala.wordpress.com

It's a lot of work to run a meeting this size, but there are a great volunteers who share the load - and members also pitch in where they can to help out.

Peachpit: Can you share with us any enjoyable or exciting user group experiences that stick out most from this past year? What does your group have planned for 2013? Any special guests or events lined up?

Every meeting is fun. It'd be hard to call one out over any other. We had Brad Munkowitz (Gmunk) come talk about the work he did on Tron It was an excellent presentation and peek behind the difficult work that goes into a project like that. We've had Chuck Schumann from Avatar come speak about previz. We've had character designers come to talk about how they've created illustrations and 3D characters for print an animation. For the past 4 years we've been able to get a special meeting from the video software team at Adobe.

In 2013, I'm hoping to widen our reach using an online service as well. If people want to attend certain meetings via online connection, I'm gonna try to make it happen. Special guest speakers - certainly. We are looking forward to have Taz Goldstein present at an upcoming meeting. Peachpit's video user communities should be familiar with his name - or look him up on peachpit.com <http://peachpit.com>


Peachpit: Member appreciation time! Take this space to highlight one extraordinary member of your group and tell us what makes them stand out.

Extraordinary Member? C'mon. If I could offer an answer each day for a year, I could probably get a good list started. DMALA members are extraordinary for so many different reasons. What makes them so? First off, we have a huge membership and attendance. Even if we were only 50 people, it's still a large group. Each one of our members is friendly, engaged, and welcomes new members.
The member who has continued to support the group as a volunteer (even when missing giant chunks of good presentations) is Steve Toyama (twitter @Shigaboo). Over the years, he's helped constantly and tries to help members find what they're looking for.


Peachpit: And finally, what is one Peachpit title your group can't live without and why?

FINALLY - an easy one! The one title that people are always excited by is CLASSROOM IN A BOOK. Sure, there are small pockets of members who prefer the selections of photography books, others who swear by the tech and trade books, but overall: If it says "Classroom In A Book" it doesn't matter what the subject matter is - people seek it out.