Automator workflows are great at saving you time by automating tasks that you'd otherwise have to do manually. Want to become even more efficient? Try scheduling your workflows to run at night, on weekends, or while you're at lunch.
In Automator, you can quickly and easily save any workflow as an iCal Alarm, to be run automatically whenever you see fit.
1. Create or open a workflow in Automator.
2. Select File > Save As Plug-in… from the menu bar.
3. Enter a name for your workflow, and choose iCal Alarm from the Plug-in for popup.

4. Click the Save button.
5. iCal will come to the front, and a new event will be created on an Automator calendar, configured to run the workflow.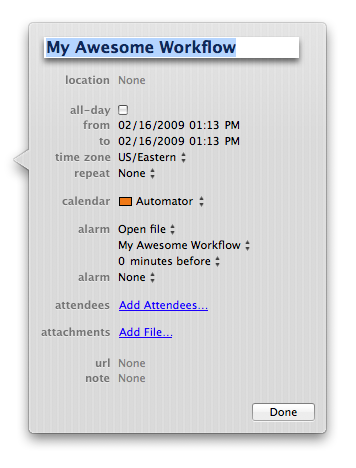 6. Set the start date of the event to the desired date and time. If you'd like, you can even set the event to repeat at scheduled intervals.
For more on Automator, check out my book Automator for Mac OS X 10.5 Leopard: Visual QuickStart Guide, as well as my video podcast series Mac Automation Made Simple.
And be sure to check back here each day this week for more Automator tips.