My sister is currently living overseas. Last month, her Mac was stolen. Unfortunately, she didn't have Find My Mac enabled, as she was running an older version of OS X, which didn't support it. The police did manage to recover the Mac after a few days, but this situation got me thinking... how could you track down a stolen Mac without Find My Mac enabled? Certainly, there are commercial third-party apps that could help. But, what about something a typical Mac user might have installed? What about Dropbox?
If you're not a Dropbox user, I highly recommend the service. The free plan offers you 2GB of cloud storage, which quickly and easily integrates across all of your devices. It's perfect for keeping important documents in sync, and available to you whenever and wherever you need to get them. Of course, if 2GB isn't enough for you, reasonably priced plans are available if you want to expand your storage.
As it turns out, Dropbox does have a feature that may indeed help you track down a stolen Mac. The first step is to sign up for the service and install the Dropbox software on your Mac. Next, log into the Dropbox website using your browser, and go to Settings.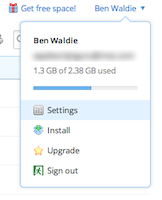 Access your Dropbox settings via your browser.
Click on the Security tab, and you'll find a list of any devices that have access to your Dropbox account. Hover over the information icon to display the IP address of a device. At this time, IP address tracking doesn't work for mobile devices, but this functionality may be added in the future.

Viewing an IP address for a device linked to your Dropbox account
So, consider Dropbox another tool for potentially tracking your Mac on the off chance it's ever stolen. Since Dropbox syncs regularly with the server, the odds are good that it will pick up the IP address of a thief who logs into the machine while on a connected network.