What would international photographer David DuChemin do? That question has haunted you every time you take a shot. Wonder no more, for @Peachpit is proud to present ... a WTF Twitterview with Mr. DuChemin himself!

Author of the brand spanking new book,
Within the Frame: A Journey of Photographic Vision
, David DuChemin will answer your most pressing questions (photographywise), in easy-to-manage 140-character bites via Twitter! This grand event will take place on Thursday, May 7, at 11 am PST.
To tune in, just follow
@Peachpit
and
@pixelatedimage
. You can even set up a
Tweetdeck
group with just those 2 tweeps and follow along or search for this hashtag: #WTF_QA.
So here's your chance! What would DuChemin do? Send your questions to
@Peachpit
or post them as comments to this blog with your Twitter name. We'll pick five random questions, and if yours is chosen, you win a free copy of
Within the Frame!
Now wouldn't that be ridiculously cool? You'll finally know the answer to WWDD if he had a camera, his passion, and a tent in the middle of India and had to get the perfect sho t...
and
you'll get a free book, to boot? Not too shabby, I'd say.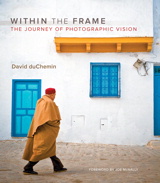 Check out David DuChemin's blog for more details.