At Macworld Expo, I look forward to the conversations I have with our customers. Whether it's a "thank you" for teaching them a new skill or a request for a potential new book they'd like us to publish, I always cherish these talks in the booth.
Of course, I also look forward to reconnecting (or connecting for the first time) with authors. They always come through with brilliant presentations in our booth. Mark Christiansen showed a crowd of attendees a few techniques from his bestselling book Adobe After Effects CS4 Visual Effects and Compositing Studio Techniques.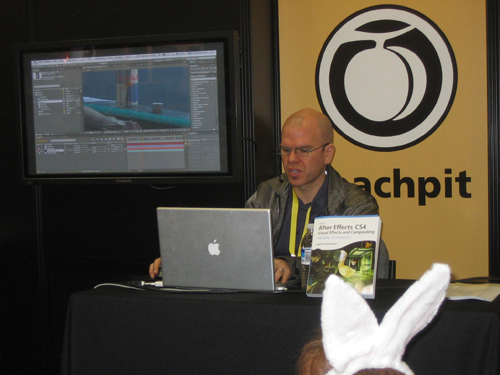 And some of authors are even willing to don a pair of Peachpit Visual QuickStart bunny ears to show their affection in the booth. Here is Norman Hollyn, author of The Lean Forward Moment, describing how top filmmakers use storytelling devices.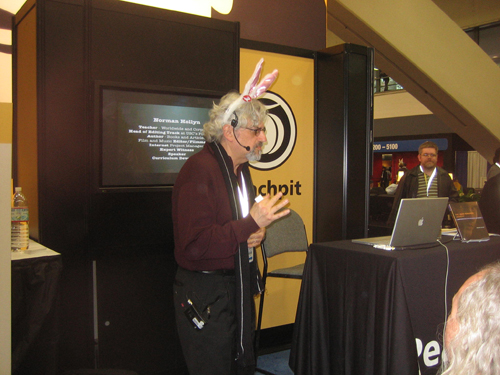 We all get an opportunity to break away from the booth, author meetings, and so on and check out the latest gizmos and gear from the Expo vendors. I usually try to find a place to chill out while demo'ing the latest trends if at all possible. Last year, I spent some time over at Metronaps, listening to calming ocean sounds while reclining in a futuristic lounge chair.
Since no loungey space-age chairs appeared to be at the show this year, after awhile I found myself looking at company signage and letting booth design characteristics be my guide for where to browse gizmos. That's when I found Comply and noise reduction earphones. The booth poster kind of tells it all (and check it out—the poster's model is a company employee!) and I found myself buying three pairs of earbud enhancers so I could continue to walk around the show floor blissfully listening to my iPod.