Last week, I shared some useful tips for locating and launching apps faster on your Mac. But what about your iOS devices? They're full of apps too. And, with pages and pages of apps, it can be a real pain in the neck to find the one you want. Here are some tips to help you wade through them.
1. Sort Your Apps
Consider sorting your apps and folders alphabetically on your home screen pages, as well as the apps within your folders.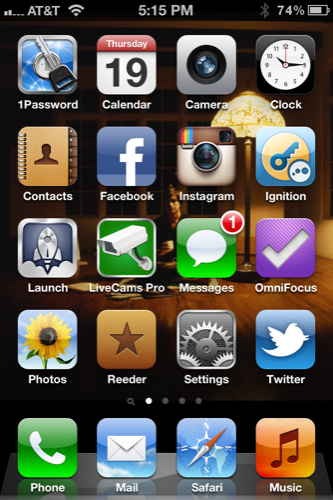 Apps, sorted alphabetically
There is actually a way to sort the majority of apps alphabetically on your device. Although, it may not be ideal for everyone, as it doesn't sort the device's default apps (Calendar, Contacts, Photos, etc.) and wipes out any custom folders you may have created. If you want to try it anyway, do so at your own risk. On your device, go to Settings > General > Reset, and tap Reset Home Screen. Once you do this, all of Apple's default apps are right back where they started when your device was new, on the first and second home screen pages. Following these apps, all of your other apps are now sorted alphabetically.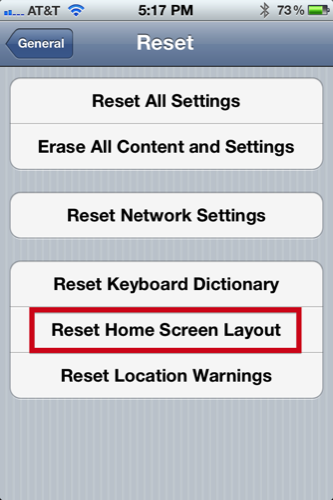 Resetting an iOS Home Screen
If you want everything sorted, including folders and the device's default apps, you'll need to do this manually. Once you've done it the first time, however, you should only need to do it on an app-by-app basis thereafter. While you can sort apps by dragging them around one by one on the device, it's probably more efficient to do it through the device management screen in iTunes. There, you can even select multiple apps to move at once by holding down Control or Shift as you click on them.
2. Prioritize Your Apps
The odds are good that you probably only use a handful of apps on a daily basis. Put these apps directly on the very first page of your home screen, and not into folders. This way, they're only a tap or two away when you need one. To get to the first home screen page quickly, press the Home button on your device. If this takes you to a page other than the first, just press the Home button a second time to get there.
3. Group Your Apps
After your top used apps, consider grouping your other apps into folders by category or some other criteria that makes sense to you. This makes it easier to find apps, and also reduces the number of pages you have to scroll through.
Lesser used apps, grouped into category folders
4. Use Search
From the first home screen, swipe to the right to display a search screen. Start typing the first few characters of the app you want, such as Omni for OmniFocus. Then, just tap the app's icon to launch it. It couldn't be quicker or easier.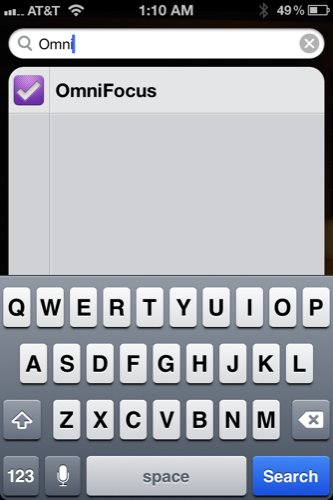 Searching for the OmniFocus app
5. Use Launch Center Pro
While it doesn't work with every app, Launch Center Pro can be configured with shortcuts for launching certain apps on your device. For some apps (the app has to support this), it can even take you to a specific location within the app, or perform an action. For example, a shortcut might launch OmniFocus and create a new item for you.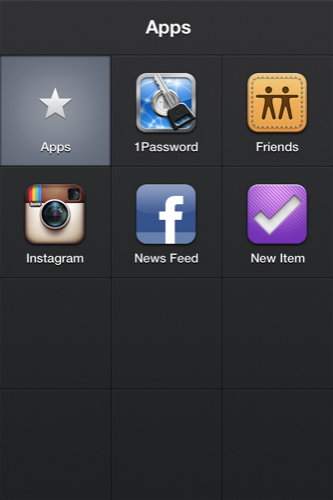 Using Launch Center Pro to launch apps and perform actions
There's more good news on the horizon for app launching. Apple announced that in iOS6, available this fall, Siri can launch apps with a simple voice command like Open OmniFocus.