Your ability to accomplish things while on the go is key to your mobile productivity. You've got tons of great apps on your iPhone or iPad, and probably have some level of access to your important files too, maybe through Dropbox or iCloud. You can do almost anything, but every now and then, you hit a wall. Maybe you need to make some emergency changes in an InDesign layout back home, check on the status of your Mac's backup, or dig up tax returns you filed away on your external drive. If only you could connect to your Mac remotely, take control, and do what you need. With LogMeIn, you can do exactly that.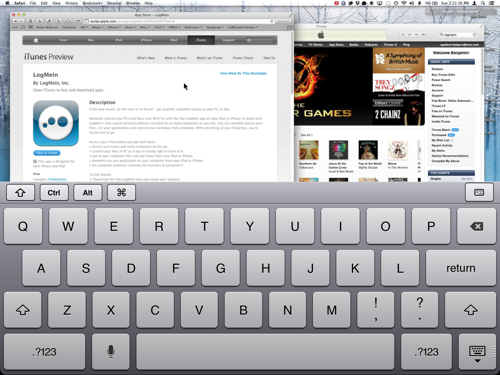 LogMeIn on iPad
LogMeIn is a free app for iPad/iPhone. It lets you connect to an unlimited number of Macs (or PCs) and remotely control them as if you were right in front of them. When connected to a Mac with LogMeIn, you see the Mac's screen on your mobile device. You can zoom in, move the mouse, click, drag, access your desktop apps, and do anything else you could do if you were there in person.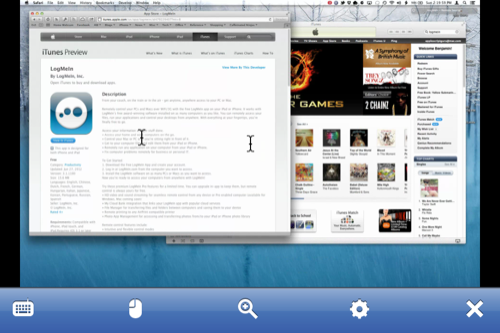 LogMeIn on iPhone
While the remote control functionality of LogMeIn is free, in-app purchases let you subscribe annually or monthly to pro-level features, including streaming audio and the ability to copy files between your Macs and your mobile devices. If you are interested in these features, you may wish to consider LogMeIn's Ignition app, which gives you the pro-level features at a set cost ($129.99), rather than the recurring subscription fees.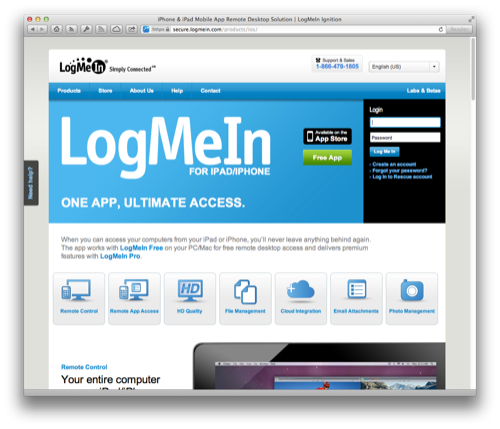 The LogMeIn website
To give LogMeIn a try, start by visiting www.logmein.com and creating a free account. Then, download the LogMeIn software to your Mac, PC, needy family member's computer, etc., install it, and sign into your account. Next, just download the free LogMeIn app to your iPhone and/or iPad, and sign in to begin accessing your computers. Now, anywhere and anytime, you can quickly and easily get to that desktop app, find that obscure file, or diagnose your friend's email problems, all from the comfort of your iOS device.