Video
This video clip has been formatted and modified to fit this page. The actual video product provides a larger screen size and higher resolution, as well as standard player control tools such as fast forward, reverse, and scrubbing.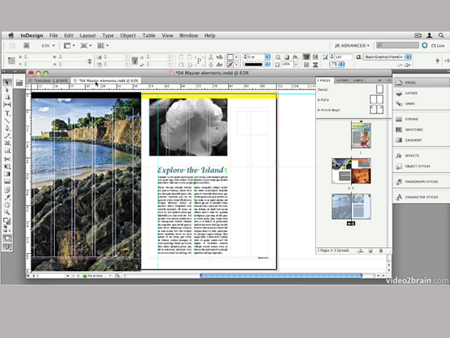 You need to upgrade your Flash Player. You need version 9 or above to view this video. You may download it here. You may also see this message if you have JavaScript turned off. If this is the case, please enable JavaScript and reload the page.
Learn more at www.learnbyvideo.com.

Copyright 2011
Dimensions: 7-3/8" x 9-1/8"
Pages: 120
Edition: 1st
DVD
ISBN-10: 0-321-73480-7
ISBN-13: 978-0-321-73480-8
This complete training program from Adobe Press and video2brain combines over 18 hours of exceptional video training with a full-color 120-page guide to teach you the fundamentals of InDesign CS5 as well as the basic principles of page layout.

Maybe you just bought InDesign and it's still in the box, maybe you've played with it for awhile and see how much there is to learn, or maybe you've used it for many versions and want to take your skills to the next level. In any case, you'll learn what you want to know in Adobe InDesign CS5: Learn by Video.

Expert trainers Russell Viers and José Ramos show you how to navigate InDesign's interface and use essential commands and tools to design, lay out, preflight, and publish engaging print documents. You'll also learn to use InDesign's CS5's advanced features to add interactivity to your documents and publish them online.

Topics include:

• Creating a new document
• Adding text and graphics
• Working with color and transparency
• Creating master pages
• Using the new Layers panel
• Exporting to ePub

and more!

The lessons are wrapped in a feature-rich interface that lets you jump to any topic and bookmark individual sections for later review. Full-Screen mode provides a hi-def, immersive experience, and Watch-and-Work mode shrinks the video into a small window so you can play the videos alongside your application.

As with all titles in the Learn by Video series, the project files used in the lessons are included with the course, and interactive review questions help reinforce what you've learned. Selected videos are also provided ready to be downloaded for viewing on your iPhone, iPod, or other compatible mobile device.

Note from the publisher:

FREE Adobe InDesign CS5.5 updates are available for this title. Simply register your product at www.peachpit.com/register and you will receive the updates when they become available.


