Home > Store > Digital Photography > Adobe Photoshop Lightroom
Adobe Photoshop Lightroom 3 Book for Digital Photographers, The
Product Author Bios
Scott Kelby is Editor-in-Chief of Photoshop User magazine, President of the National Association of Photoshop Professionals, Executive Editor of the Photoshop Elements Techniques newsletter, and one of the leading seminar instructors in the country today.
Video
Author Scott Kelby describes what is new in his latest version of The Adobe Photoshop Lightroom Book for Digital Photographers.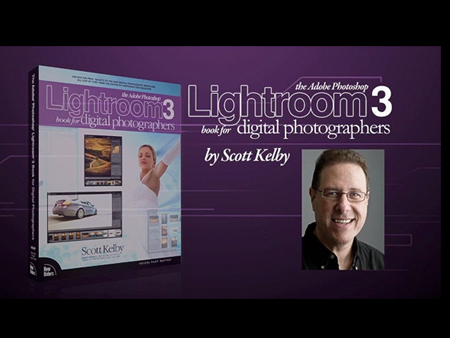 You need to upgrade your Flash Player. You need version 9 or above to view this video. You may download it here. You may also see this message if you have JavaScript turned off. If this is the case, please enable JavaScript and reload the page.
Since Lightroom first launched, Scott Kelby's The Lightroom Book for Digital Photographers has been the world's #1 best-selling Lightroom book. In this latest version for Lightroom 3, Scott uses his same step-by-step, plain-English style and layout to make learning Lightroom easy and fun. Scott doesn't just show you which sliders do what. Instead, by using the following three simple, yet brilliant, techniques that make it just an incredible learning tool, this book shows you how to create your own photography workflow using Lightroom:

1) Scott shares his own personal settings and studio-tested techniques. He trains thousands of Lightroom users at his "Lightroom Live!" tour and knows first hand what really works and what doesn't.

2) The entire book is laid out in a real workflow order with everything step by step, so you can begin using Lightroom like a pro from the start.

3) What really sets this book apart are the last two chapters. This is where Scott dramatically answers his #1 most-asked Lightroom question, which is: "Exactly what order am I supposed to do things in, and where does Photoshop fit in?" Plus, this is the first version of the book that includes his famous "7-Point System for Lightroom," which lets you focus on mastering just the seven most important editing techniques.

The Adobe Photoshop Lightroom 3 Book for Digital Photographers is the first and only book to bring the whole process together in such a clear, concise, and visual way.
Customer Reviews
183 of 187 people found the following review helpful
Cleverly painless and copiously illustrated introduction to LR3 and workflow basics
,
July 10, 2010
This review is from:

The Adobe Photoshop Lightroom 3 Book for Digital Photographers (Voices That Matter) (Paperback)
About as complete, smoothly-paced and effortless an introduction to LR3's rather daunting interface as this oldtimer has come across. Continues its predecessor's (LR2) step-wise breezy familiarization with the Lighroom 3 interface to shape a basic - but perfectly sufficient - workflow for busy digital photographers. Easily followed step by step full color screenshots, printed on top quality glossy paper, speed the reader towards a solid grasp of the essentials; helpful tips are provided once you have the basics under your belt. The tutorial is equally helpful to the (nearly identical) Windows and Mac versions of LR3; where the two diverge (as in the file system), unique Windows and Mac screen presentations are treated separately with OS-specific screenshots. Not the least, the focused "Seven Point System" concentrates your time and effort on Lightroom's must-know photo editing strategies, without wandering too far afield.
This book is a Godsend for new users -- less so...
Read more
103 of 105 people found the following review helpful
This is a must have book, especially for new or moderate skill users of LR
,
July 23, 2010
This review is from:

The Adobe Photoshop Lightroom 3 Book for Digital Photographers (Voices That Matter) (Paperback)
I buy a lot of tech books but after purchasing this one 3 things really stood out to me, having bought his previous 2 books on same topic:
1) the extensive helps in the back - particularly the framing example and "collag-ing" layouts will be very helpful to people.
2) the generous section on full work process - shooting to prints.
3) Among the best in this book though is on pages IV and V - because software always becomes obsolete, but gratitude stirs the soul. You get a feel for the writers desire to be helpful and not just drop facts - it's written in a running narrative form as he leads you through good processes and organizational strategy.
If you have or are considering purchasing LR 3, this book will save you extensive searching and frustration in self discovering all the nuances with features and their intent. A new user could sit with this book and walk themselves through a complete work-flow - beginning to end and experience all the major...
Read more
63 of 65 people found the following review helpful
Round 3
,
July 26, 2010
By
Conrad J. Obregon
(New York, NY USA) -
See all my reviews
This review is from:

The Adobe Photoshop Lightroom 3 Book for Digital Photographers (Voices That Matter) (Paperback)
Don't blame Scott Kelby if his Lightroom ("LR") instruction books keep getting larger. Blame Adobe for adding more and more capabilities to this piece of software. But at least the software hasn't yet become "bloatware". And the new capabilities really do add something to the digital photographer's ability to more easily create art. Unfortunately, the on-line help only works when you already have some idea of the function for which you are looking, so it's not useful for learning LR.
"The Adobe Photoshop Lightroom 3 book for digital photographers" more or less follows the same format as earlier versions. There are chapters on importing images; using the library module to organize images and customize what you see; editing your images with both global and local adjustments; fixing common problems; exporting the images from LR; moving them into Photoshop; editing black and white images; creating slideshows; printing; creating web galleries; and a case study on portrait...
Read more
Share your thoughts with other customers:
›
See all 147 customer reviews...

Buy
eBook (Watermarked)  $39.99  $31.99
Includes EPUB, MOBI, and PDF
About eBook Formats
This eBook includes the following formats, accessible from your Account page after purchase:

EPUBThe open industry format known for its reflowable content and usability on supported mobile devices.

MOBIThe eBook format compatible with the Amazon Kindle and Amazon Kindle applications.

PDFThe popular standard, used most often with the free Adobe® Reader® software.
This eBook requires no passwords or activation to read. We customize your eBook by discretely watermarking it with your name, making it uniquely yours.
Purchase Reward: 15 Day Trial to Creative Edge
By completing any purchase on Peachpit, you become eligible to try out
Creative Edge
free for 15 days.
Get unlimited online access to thousands of training resources on creative topics. You will also get a discounted rate of just $17.99/month if you decide to continue with a paid subscription.
Other Things You Might Like