Home > Store > Apple > Operating Systems > Leopard/Snow Leopard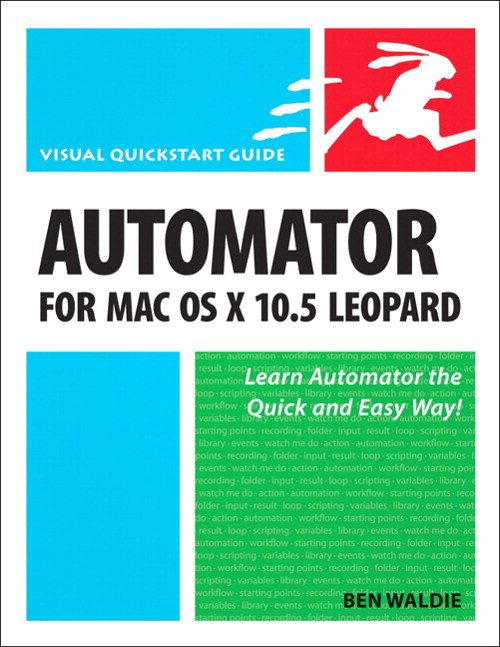 Automator for Mac OS X 10.5 Leopard: Visual QuickStart Guide
Book
This product currently is not for sale.
eBook (Adobe DRM)
Your Price: $19.19
List Price: $23.99

ℹ This eBook requires the free Adobe® Digital Editions software.

Before downloading this DRM-encrypted PDF, be sure to:

Install the free Adobe Digital Editions software on your machine. Adobe Digital Editions only works on Macintosh and Windows, and requires the Adobe Flash Player. Please see the official system requirements.
Authorize your copy of Adobe Digital Editions using your Adobe ID (select AdobeID as the eBook vendor). If you don't already have an Adobe ID, you can create one here.
Register your book and gain access to the supplementary files. Just log in or join peachpit.com, then enter the book's ISBN. After you register the book, a link to the content will be listed on your Account page under Registered Products.
Copyright 2008
Dimensions: 7 X 9
Pages: 288
Edition: 1st
Book
ISBN-10: 0-321-53935-4
ISBN-13: 978-0-321-53935-9
eBook (Adobe DRM)
ISBN-10: 0-321-53991-5
ISBN-13: 978-0-321-53991-5
Automator for Mac OS X 10.5 Leopard: Visual QuickStart Guide uses a combination of task-based instruction and strong visuals to teach Macintosh users how to automate repetitive, time-consuming tasks with the Automator application that is included with Mac OS X 10.5 Leopard. Automator comes with many useful actions for lots of popular Apple applications. Each action performs a single specific task, such as removing an empty playlist from iTunes, or adding attachments to a Mail message. The real power of Automator lies in mixing and matching these actions to perform exactly the job you need them to, in a string of actions known as a workflow.

Author Ben Waldie introduces readers to how Automator works, and then helps them assemble and use Automator workflows. This book covers the major updates to Automator that are part of Mac OS X 10.5 (Leopard), including a variety of highly anticipated features, such as recording, looping, and the use of variables within workflows. These features make Automator more flexible and powerful than before, greatly increasing its appeal and interest to any Mac user looking to become more efficient.

Both beginning users who want a thorough introduction to Automator and more advanced users looking for a convenient reference will find what they need here in straightforward language, clear steps, and practical tips.


Table of Contents
Introduction
Chapter 1: Getting Started
Chapter 2: Building Simple Workflows
Chapter 3: Workflow Creation Basics
Chapter 4: Working with Actions
Chapter 5: Recording Manual Events
Chapter 6: Running, Saving, and Opening Workflows
Chapter 7: Troubleshooting
Chapter 8: Customizing Automator
Chapter 9: Saving Workflow Plug-Ins
Chapter 10: Workflow Looping
Chaper 11: Using Variables
Chapter 12: Sharing Actions and Workflows
Chapter 13: Building Advanced Workflows
Chapter 14: Automator Resources
Glossary
Appendix A: Workflow Creation Step-by-Step Guide
Appendix B: Example Workflows
Appendix C: Developer Resources
Index


