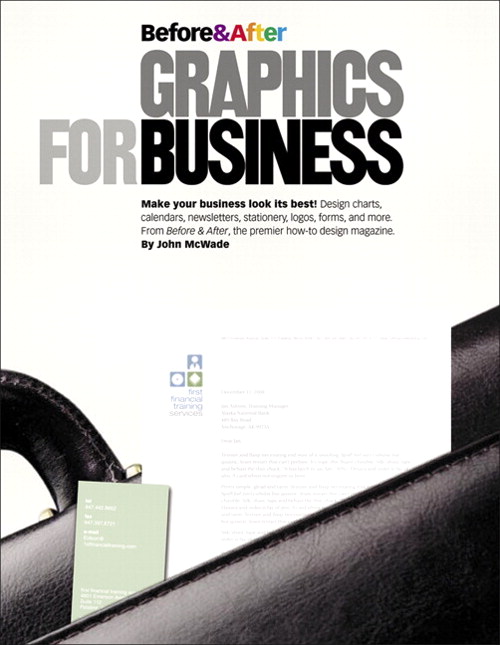 Share
|




Register your product to gain access to bonus material or receive a coupon.
Before and After Graphics for Business
Book
Your Price: $31.99
List Price: $39.99
Usually ships in 24 hours.
Copyright 2005
Dimensions: 7 X 9
Pages: 208
Edition: 1st
Book
ISBN-10: 0-321-33415-9
ISBN-13: 978-0-321-33415-2
As the founder of the very first desktop publishing company (PageLab) and the publisher of Before and After magazine, John McWade knows graphics. He also knows business–and the depth of that knowledge comes through in every page of this handsome primer on creating effective business graphics! In these pages, a master of the medium shows you how to use today's tools to create business graphics that communicate your business's identity in a variety of forms. From creating charts, graphs, calendars, and maps to designing newsletters, creating various types of stationery, coming up with an identity, using photos to convey a message, and creating gift certificates, Yellow Pages ads, coupons, forms, and more, this elegantly designed volume shows you how to present your business to the world graphically. Best of all, you'll discover how to think visually–ensuring that your perceptions of your business are the world's perception of your business through the effective use of business graphics.
Online Sample Chapters
Before and After Graphics for Business: Creating a Successful Logo
Find Your Identity: How to Design a Logo That Suits Your Business
Table of Contents
CHARTS, GRAPHS, CALENDARS, MAPS A good chart communicates quickly How to design a business report Make an easy-to-read data sheet Bring the world to your door (maps) A single line of months and days Information with a twist Word map NEWSLETTERS Newsletter clinic How to decongest your newsletter Newsflash! Design a bulletin newsletter Design a handsome, no-frills newsletter Lively newsletter puts everyone on stage Catch the eye of the passerby A tall newsletter How to typeset an interview What typefaces are best for text? Typeface combinations STATIONERY Dozens of documents: make them alike Simple art of correspondence (biz ptcrd) Silhouettes A greeting with a surprise The fine art of emphasis Thoughts that count How to set a phone number How to design a modern resume LOGOS/IDENTITY What makes a good logo? How to design a wordmark How to make a lettermark Monogram logo conveys character Discover the logo in your name The art and type tango Design your own ligature Design a playful, multi-image logo Design a name Picture this! Words and pictures Let's design logos! How to design in black and white PHOTOS How to say what the camera can't How to energize photo pages Fadeaway photos make call-outs Wall of video Objects in a group How to use silhouettes SALES AND FORMS How to improve every form you make Design a great certificate Layout for dense messaging How to design a Yellow Pages ad Snap together a great catalog Infomark Make a money maker How to draw great visual instructions How to design photocoupons
FREE

TRIAL WITH PURCHASE!
---
By completing any purchase on Peachpit, you get unlimited 15 day access to thousands of Training Resources on creative topics You will also get a discounted rate of just $17.99/month if you decide to continue with a paid subscription.
Other Things You Might Like


eBook (Watermarked) $25.59