Publishers of technology books, eBooks, and videos for creative people
Home > Store > Web Design & Development > Ajax and JavaScript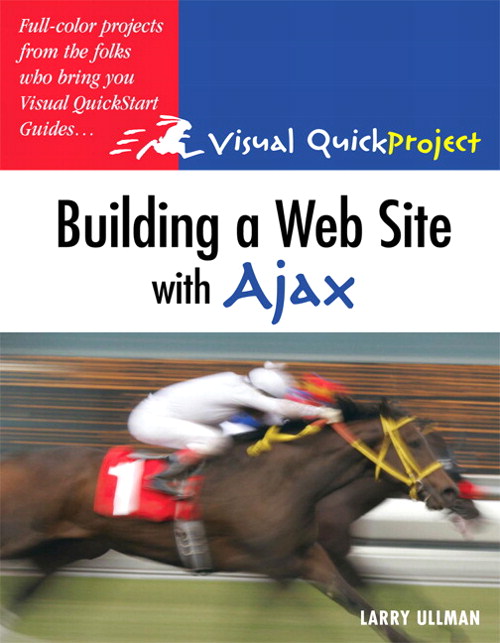 Building a Web Site with Ajax: Visual QuickProject Guide
eBook (Adobe DRM)
Your Price: $12.79
List Price: $15.99

ℹ This eBook requires the free Adobe® Digital Editions software.

Before downloading this DRM-encrypted PDF, be sure to:

Install the free Adobe Digital Editions software on your machine. Adobe Digital Editions only works on Macintosh and Windows, and requires the Adobe Flash Player. Please see the official system requirements.
Authorize your copy of Adobe Digital Editions using your Adobe ID (select AdobeID as the eBook vendor). If you don't already have an Adobe ID, you can create one here.
Copyright 2008
Pages: 176
Edition: 1st
eBook (Adobe DRM)
ISBN-10: 0-321-52469-1
ISBN-13: 978-0-321-52469-0
Ajax is at the heart of the Web 2.0 revolution. It isn't a technology but, rather, is a technique that leverages other technologies and techniques, such as CSS, XML, DHTML, and XHTML. Many Web designers and programmers would like to incorporate Ajax in their projects because of the amazing functionality it can add to a Web site, but they can't because of the steep learning curve. That's where this book steps in. It makes learning Ajax fun and easy -- a great place to start! Visual QuickProject Guides focus on a single project. In this case the project is creating a business employee directory, like an address book. What's being created is a better, new kind of Web site.
