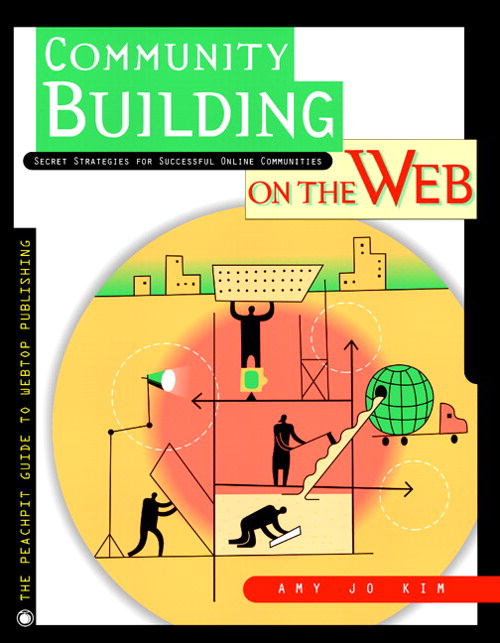 Share
|




Register your product to gain access to bonus material or receive a coupon.
Community Building on the Web: Secret Strategies for Successful Online Communities, Adobe Reader
eBook (Adobe DRM)
Your Price: $19.19
List Price: $23.99

ℹ This eBook requires the free Adobe® Digital Editions software.

Before downloading this DRM-encrypted PDF, be sure to:

Install the free Adobe Digital Editions software on your machine. Adobe Digital Editions only works on Macintosh and Windows, and requires the Adobe Flash Player. Please see the official system requirements.
Authorize your copy of Adobe Digital Editions using your Adobe ID (select AdobeID as the eBook vendor). If you don't already have an Adobe ID, you can create one here.
Copyright 2000
Dimensions: 7 X 9
Pages: 380
Edition: 1st
eBook (Adobe DRM)
ISBN-10: 0-321-48891-1
ISBN-13: 978-0-321-48891-6
Note: This is a backlist title that originally published in April of 2000.

What's the point of creating a great Web site if no one goes there--or worse, if people come but never return? How do some sites--such as America Online, EBay, and GeoCities--develop into Internet communities with loyal followings and regular repeat traffic? How can Web page designers and developers create sites that are vibrant and rewarding?

Amy Jo Kim, the author of Community Building on the Web and consultant to some of the most successful Internet communities, is an expert at teaching how to design sites that succeed by making new visitors feel welcome, rewarding member participation, and building a sense of their own history. She discusses important design strategies, interviews influential Web community-builders, and provides the reader with templates and questionnaires to use in building their own communities.

Amy Jo Kim is a recognized expert in the field of online community design. She is the founder and creative director of NAIMA, a 21st century design studio that has designed online environments for a wide range of clients, including America Online, Adobe Systems, AT&T, CyberCash, Electric Communities, Fujitsu, Mpath Interactive, MTV, NetNoir, Nickelodeon, Oracle, Paramount, PlaceWare, Redgate, Sony, Viacom, and Yahoo. She also teaches online design at Stanford University. Her article on the fantasy game environment, Ultima Online, appeared in the May 1998 issue of Wired.

Table of Contents


1. PURPOSE.

Building a Successful Community. Case Study: The Planning Exercise in Action. Articulate Your Vision.
2. PLACES: Bringing People Together.
People Are Talking. Mapping the Territory. Zoned For Growth.
3. PROFILES: Getting to Know Your Members.
Why Profiles?. Your Member Database. Creating a Persona. Evolving a Social Identity.
4. ROLES: From Newcomer to Old-Timer.
The Membership Life Cycle. Welcome Your Visitors. Instruct Your Novices. Reward Your Regulars. Empower Your Leaders. Honor Your Elders.
5. LEADERSHIP: The Buck Stops Here.
What's a Leader?. Unofficial Leaders. Official Leaders. Case Study: Power to the People: The Slashdot Moderator System.. Manage Your Leaders.
6. ETIQUETTE: Rules to Live By.
Develop Your Ground Rules. Enforce Your Policies. Evolve Your Rules.
7. EVENTS: Meetings, Performances and Competitions.
Event Planning 101. Meetings: Bringing Groups Together. Performances: Up on Stage. Competitions: Members in the Spotlight.
8. RITUALS: Handshakes, Holidays, and Rites of Passage.
The Power of Ritual. Personal Acknowledgments. Community Holidays. Passages and Transitions.
Chapter 9. SUBGROUPS: Clans, Clubs and Committees.
Why Subgroups?. Setting the Stage. Developing Your Official Program.
Epilogue.
Index.
FREE

TRIAL WITH PURCHASE!
---
By completing any purchase on Peachpit, you get unlimited 15 day access to thousands of Training Resources on creative topics You will also get a discounted rate of just $17.99/month if you decide to continue with a paid subscription.
Other Things You Might Like

By Jeff Carlson
eBook (Watermarked) $11.99

Book $39.99