Home > Store > Design > Adobe Creative Suite
Design by Nature: Using Universal Forms and Principles in Design
Published Sep 23, 2011 by New Riders. Part of the Voices That Matter series.

Copyright 2012
Dimensions: 8" x 9-1/8"
Pages: 312
Edition: 1st

Book
ISBN-10: 0-321-74776-3
ISBN-13: 978-0-321-74776-1
Register your product to gain access to bonus material or receive a coupon.
Product Author Bios
Maggie Macnab has been creating iconic logos and graphic design since the early 1980s, fueled by her passion for nature and her love of design and the creative problem-solving process. Maggie's work has been recognized by Communication Arts, Print magazine, Step-by-Step Graphics, the American Advertising Federation, the New York Art Directors Club, and the AIGA. She speaks at conferences and schools in the United States and abroad, has owned Macnab Design since 1981, and teaches design theory at the University of New Mexico and Santa Fe University of Art and Design. She is the author of Decoding Design: Understanding and Using Symbols in Visual Communication.
Visit www.designbynaturebook.com for additional exercises and information.
Video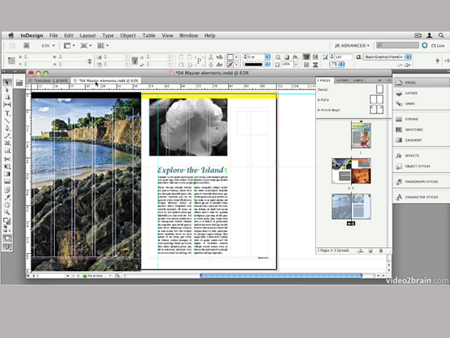 You need to upgrade your Flash Player. You need version 9 or above to view this video. You may download it here. You may also see this message if you have JavaScript turned off. If this is the case, please enable JavaScript and reload the page.
In Design by Nature: Using Universal Forms and Principles in Design, author Maggie Macnab takes you on an intimate and eclectic journey examining the unending versatility of nature, showing how to uncover nature's ingenuity and use it to create beautiful and compelling designed communications.

Written for designers and creative thinkers of all types, this book will guide you through a series of unexpected a-ha! moments that describe relationships among nature, art, science, technology, and design. Through explanation and example, you will learn about natural processes, consisting of everyday patterns and shapes that are often taken for granted, but that can be used effectively in visual messaging. Explore the principles all human beings intuitively use to understand the world and learn to incorporate nature's patterns and shapes into your work for more meaningful design.

By recognizing and appreciating a broad range of relationships, you can create more aesthetic and effective design, building communications that encompass the universal experience of being part of nature, and that are relevant to a worldwide audience.

Teaches how to understand and integrate the essential processes of nature's patterns and shapes in design
Includes key concepts, learning objectives, definitions, and exercises to help you put what you learn into practice
Features a foreword by Debbie Millman and reviews and discussions of practice and process by some of the world's leading designers, including Milton Glaser, Stefan Sagmeister, and Ellen Lupton
Includes profiles of street artist Banksy, creative director and author Kenya Hara, and typographical designer Erik Spiekermann
Customer Reviews
9 of 9 people found the following review helpful
Learn why Nature is our touchstone.
,
December 5, 2011
This review is from:

Design by Nature: Using Universal Forms and Principles in Design (Voices That Matter) (Paperback)
"My father taught me that nature was beautiful, powerful, and mysterious--and always to be respected," writes author Maggie Macnab. "Nature was the source of all that is and an infinitely creative and patient mentor." A longtime designer and teacher herself, she delivers the theme of her latest book with eager sincerity: "Nature is the one touchstone all human beings relate and respond to... conscious observation is all it takes... the most reliable, available, and truthful mentor is right outside your door. Nature has an answer for any question you ask if you just relearn how to hear its answer."
The title of this remarkably captivating design theory book clearly states its purpose, and the book's structure builds on the author's premise that "You already know nature in your heart because you are nature... most people simply have a case of modern-day amnesia caused by out-of-sync human systems that we are brought up in."
Three sections ("Memory: Remembering What...
Read more
8 of 8 people found the following review helpful
Eye Opening Book That Changed Me As A Designer
,
December 21, 2011
By
Jacob Van Ness "Prepressology"
(Saratoga Springs, New York) -
See all my reviews
This review is from:

Design by Nature: Using Universal Forms and Principles in Design (Voices That Matter) (Paperback)
As designers we tend to be very aware of the environment around us. Unfortunately sometimes that environment becomes much more of a man made one. We tend to forget to look out the window, step out the door and notice where design really all started... in nature. Design by Nature does a wonderful job of opening our eyes as designers to what nature truly has to offer in the realm of design.
Author of Design by Nature, Maggie Macnab is a well recognized designer who started in the early 1980s using her love of nature and design to create some iconic logo designs. Recognized by some of the biggest publications in the industry, Communications Arts, Print, Step by Step Graphics and the New York Art Directors Club, Maggie has a very keen sense of the world around her, especially nature. She wrote Design by Nature to help designers and creative thinkers see what they have been missing, hoping they would have a few "a-ha" moments.
Nature is full of patterns. These...
Read more
8 of 8 people found the following review helpful
The unending versatility of nature
,
December 7, 2011
This review is from:

Design by Nature: Using Universal Forms and Principles in Design (Voices That Matter) (Paperback)
If you liked Maggie's previous book, Decoding Design, you'll love this. Design by Nature includes plenty of exercises to get your creative juices flowing, and features guest designer studies from Stefan Sagmeister, Von Glitschka, Erik Spiekermann, Debbie Millman, Ellen Lupton, and many more. It takes an in-depth look at relationships between nature, design, economics, geometry, and art.
In Maggie's own words, "This book is a reminder that there is no system more powerful, more creative, or more truthful than nature. Acknowledge it. Appreciate it. Use it. It belongs to you, and you belong to it."
Well-worth a read for designers and creatives of all types.
Share your thoughts with other customers:
›
See all 15 customer reviews...
Online Sample Chapter
Table of Contents
Section One
Memory: Remembering What We Know
Chapter 1 Aesthetics: Enjoy the Ride
Chapter 2 Efficiency: Go with the Flow
Chapter 3 Nature's Ethics: Everyone's Business
Section Two
Matter: Understand and Create
Chapter 4 Patterns: Nature's Dynamics
Chapter 5 Shapes: Nature's Vocabulary
Chapter 6 The Elements: Nature's Sensuality
Section Three
Motion: The Experience Enhanced
Chapter 7 Structure: Building Beauty
Chapter 8 Symmetry: A Balancing Act in Two or More Parts
Chapter 9 Messaging: A Meaningful Medium
Index
Downloadable Sample Chapter

Buy
eBook (Watermarked)  $35.99  $28.79
Includes EPUB, MOBI, and PDF
About eBook Formats
This eBook includes the following formats, accessible from your Account page after purchase:

EPUBThe open industry format known for its reflowable content and usability on supported mobile devices.

MOBIThe eBook format compatible with the Amazon Kindle and Amazon Kindle applications.

PDFThe popular standard, used most often with the free Adobe® Reader® software.
This eBook requires no passwords or activation to read. We customize your eBook by discretely watermarking it with your name, making it uniquely yours.
Purchase Reward: 15 Day Trial to Creative Edge
By completing any purchase on Peachpit, you become eligible to try out
Creative Edge
free for 15 days.
Get unlimited online access to thousands of training resources on creative topics. You will also get a discounted rate of just $17.99/month if you decide to continue with a paid subscription.
Other Things You Might Like

By Stephen Hay
Apr 9, 2013

By Stephen Hay
Apr 2, 2013