Home > Store > Design > Voices That Matter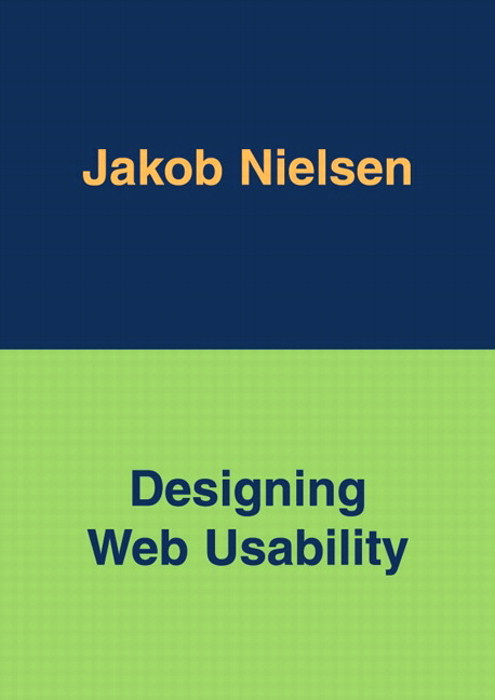 Designing Web Usability
Book
Your Price: $43.99
List Price: $54.99
We're temporarily out of stock, but order now and we'll send it to you later.
Copyright 1999
Dimensions: 6-3/4" x 9-1/2"
Pages: 432
Edition: 1st
Book
ISBN-10: 1-56205-810-X
ISBN-13: 978-1-56205-810-4
Users experience the usability of a web site before they have committed to using it and before making any purchase decisions. The web is the ultimate environment for empowerment, and he or she who clicks the mouse decides everything. Designing Web Usability is the definitive guide to usability from Jakob Nielsen, the world's leading authority. Over 250,000 Internet professionals around the world have turned to this landmark book, in which Nielsen shares the full weight of his wisdom and experience. From content and page design to designing for ease of navigation and users with disabilities, he delivers complete direction on how to connect with any web user, in any situation. Nielsen has arrived at a series of principles that work in support of his findings: 1. That web users want to find what they're after quickly; 2. If they don't know what they're after, they nevertheless want to browse quickly and access information they come across in a logical manner. This book is a must-have for anyone who thinks seriously about the web.

Downloadable Sample Chapter
Click below for Sample Chapter related to this title:
156205810X.pdf
Table of Contents


Preface.


1. Introduction: Why Web Usability?


2. Page Design.


3. Content Design.


4. Site Design.


5. Intranet Design.


6. Accessibility for Users with Disabilities.


7. International Use: Serving A Global Audience.


8. Future Predictions: The Only Web Constant Is Change.


9. Conclusion: Simplicity in Web Design.


Recommended Readings.


Index.



TRIAL WITH PURCHASE!
---
By completing any purchase on Peachpit, you get unlimited 15 day access to thousands of Training Resources on creative topics You will also get a discounted rate of just $17.99/month if you decide to continue with a paid subscription.