Home > Store > Design > Adobe Creative Suite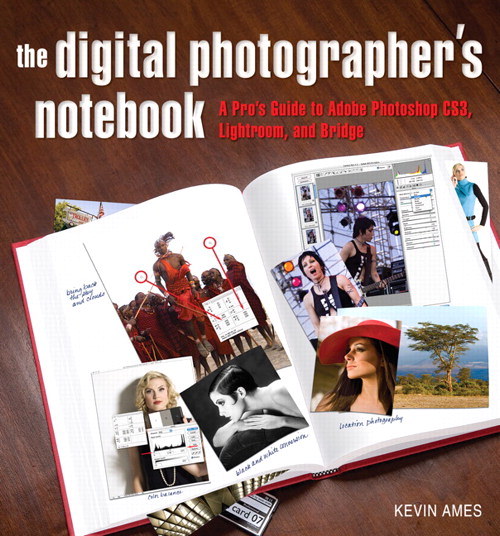 Digital Photographer's Notebook: A Pro's Guide to Photoshop CS3, Lightroom, and Bridge, The
eBook (Adobe DRM)
Your Price: $25.59
List Price: $31.99

ℹ This eBook requires the free Adobe® Digital Editions software.

Before downloading this DRM-encrypted PDF, be sure to:

Install the free Adobe Digital Editions software on your machine. Adobe Digital Editions only works on Macintosh and Windows, and requires the Adobe Flash Player. Please see the official system requirements.
Authorize your copy of Adobe Digital Editions using your Adobe ID (select AdobeID as the eBook vendor). If you don't already have an Adobe ID, you can create one here.
Copyright 2008
Dimensions: 8-1/2 X 9-1/2
Pages: 352
Edition: 1st
eBook (Adobe DRM)
ISBN-10: 0-321-51491-2
ISBN-13: 978-0-321-51491-2
In the world of digital photography, inspiration can come at any time. Great images are created behind the camera and then refined at the computer. "Photographers live in the moment when shooting, and I believe we do the same when in front of the monitor," writes Kevin Ames, veteran photographer and Photoshop master. Building on his popular column in Photoshop User magazine, Kevin expands the scope of the original articles to include in-depth information about all aspects of digital photography. With this book, you'll gain a focused yet thorough understanding of Adobe's suite of digital photography applications–Photoshop CS3 (including the Camera Raw plug-in), Lightroom, and Bridge. You'll not only learn what these powerful applications can do, you'll also learn which one is best for a given task and see how the applications come together to allow you to work efficiently–all while creating and delivering stunning photographs. Whether dealing with workflow, organization, or truly creative enhancements, Kevin candidly shares his personal image-making process from start to finish. In addition, there are clear and illuminating explanations of many issues relevant to the digital photographer, such as the profound differences between RAW and JPEG, the many benefits of "shooting tethered," and how lighting really works. Whether you've been shooting digital for years or you're just making the switch from film, The Digital Photographer's Notebook is an essential guide to managing your portfolio and creating head-turning photographs.
