Home > Store > Digital Photography > Technique
Food Photography: From Snapshots to Great Shots
Product Author Bios
Nicole S. Young is a full-time photographer living in the Salt Lake Valley, Utah. She specializes in commercial photography and licenses many of her images through iStockphoto.com. Nicole is an accredited Adobe Certified Expert (ACE) in Photoshop and is a Help Desk Specialist with the National Association of Photoshop Professionals. Nicole is the author of Canon 7D: From Snapshots to Great Shots and Canon 60D: From Snapshots to Great Shots, and she blogs at nicolesyblog.com.
Video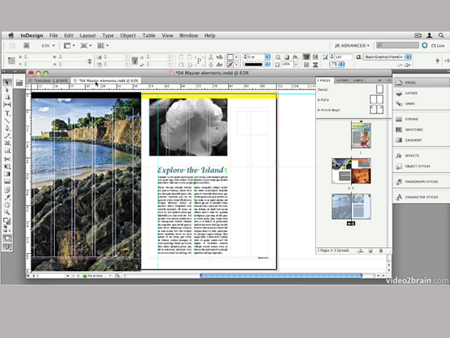 You need to upgrade your Flash Player. You need version 9 or above to view this video. You may download it here. You may also see this message if you have JavaScript turned off. If this is the case, please enable JavaScript and reload the page.
Are you a "foodie" looking to take eye-catching photos of your culinary concoctions? Do you have a food blog that you'd like to enhance with better visuals? Do you want to create photos that conjure up the flavors of your favorite foods but lack the photographic technique to make it happen? Then this book is for you!

In Food Photography: From Snapshots to Great Shots, photographer Nicole Young dishes up the basics on getting the right camera equipment–lights, lenses, reflectors, etc.–and takes you through the key photographic principles of aperture, ISO, and shutter speed. She then discusses lighting and composition and shows how to style food using props, fabrics, and tabletops. Finally, she explains how to improve your photos through sharpening, color enhancement, and other editing techniques. Beautifully illustrated with large, vibrant photos, this book offers the practical advice and expert shooting tips you need to get the food images you want every time you pick up your camera.

Follow along with your friendly and knowledgeable guide, photographer and author Nicole S. Young, and you will:

• Use your camera's settings to gain full control over the look and feel of your images

• Master the photographic basics of composition, focus, depth of field, and much more

• Learn to enhance your food photographs using professional food styling techniques

• Get tips on different types of lighting, including strobes, flashes, and natural light

• Improve the look of your photos using Adobe Photoshop

• Go "behind the scenes" and walk through the process of creating great food photographs with an entire chapter of start-to-finish examples

And once you've got the shot, show it off! Join the book's Flickr group to share your photos, recipes, and tips at flickr.com/group/foodphotographyfromsnapshotstogreatshots.
Customer Reviews
24 of 27 people found the following review helpful
A splendid book on Food Photography presented for photographers by an excellent photographer
,
August 28, 2011
By
Brian Matiash
(Framingham, MA) -
See all my reviews
This review is from:

Food Photography: From Snapshots to Great Shots (Paperback)
Food photography is all about presenting an image that allows the viewer to instantly eat with their eyes. It attacks their senses and triggers hunger, lip smacking, and everything else that comes along with a perfectly presented culinary dish.
But it isn't as simple as slapping together some food onto a plate and hitting the shutter button. Nicole Young understands this and shares her knowledge as a photographer and a lover of beautiful (& tasty!) food to give you all of the tools needed to create your own visual masterpieces.
As a photographer myself, I can always go to a cookbook to look up recipes for making a dish. I'm not looking for recipes in my Food Photography books. Rather, what I'm looking for is a resource filled with best practices on how to optimally plate, light and process my dished images. Nicole succeeds in these arenas beautifully. Her images include wonderfully clear lighting diagrams that help visualize how to position your off-camera lights...
Read more
11 of 11 people found the following review helpful
Well, I am a professional photographer also and I got a lot out of this book. What I got most out of this book was the ideas of styling and propping. I also got something out of looking at the lighting setups and ideas. I just skipped the basic stuff.
The areas that are basic, gets pretty technical very fast, so I would say this is for advanced photographers also that want to get into food photography.
If you know nothing about photography other than how to hit the shutter button, this book will be over your head. It covers so much of the technical aspect of photography in such a rapid pace that a beginner will find it too difficult. That being said, a beginner can still get a lot out of the styling and propping and still get some great images using a point and shoot camera.
I really recommend this book to anyone that seriously want to...
Read more
7 of 7 people found the following review helpful
Nicole not only knows how to shoot food she can also explain her process.
,
October 24, 2012
This review is from:

Food Photography: From Snapshots to Great Shots (Paperback)
The first third of the book is for beginners but don't let that sway you. The second two thirds is gold for anyone who wants to learn the mechanics and aesthetics of shooting food in the modern idiom. I liked the writing and the clear and helpful illustrations. I have two cookbooks to my credit as a photographer and just shot a two day food assignment for a Hilton Hotel property. I wish I'd read NIcole's book before hand because I learned at least five new things that would have been helpful. This book is very, very well done. I have both the electronic and the paper copy but I will say I like the paper back better.
Share your thoughts with other customers:
›
See all 59 customer reviews...
Errata
On page 58, Figure 3.5, the text of callouts B and C should be swapped.

Buy
eBook (Watermarked)  $19.99  $15.99
Includes EPUB, MOBI, and PDF
About eBook Formats
This eBook includes the following formats, accessible from your Account page after purchase:

EPUBThe open industry format known for its reflowable content and usability on supported mobile devices.

MOBIThe eBook format compatible with the Amazon Kindle and Amazon Kindle applications.

PDFThe popular standard, used most often with the free Adobe® Reader® software.
This eBook requires no passwords or activation to read. We customize your eBook by discretely watermarking it with your name, making it uniquely yours.
Purchase Reward: 15 Day Trial to Creative Edge
By completing any purchase on Peachpit, you become eligible to try out
Creative Edge
free for 15 days.
Get unlimited online access to thousands of training resources on creative topics. You will also get a discounted rate of just $17.99/month if you decide to continue with a paid subscription.
Other Things You Might Like