Home > Store > Design > Voices That Matter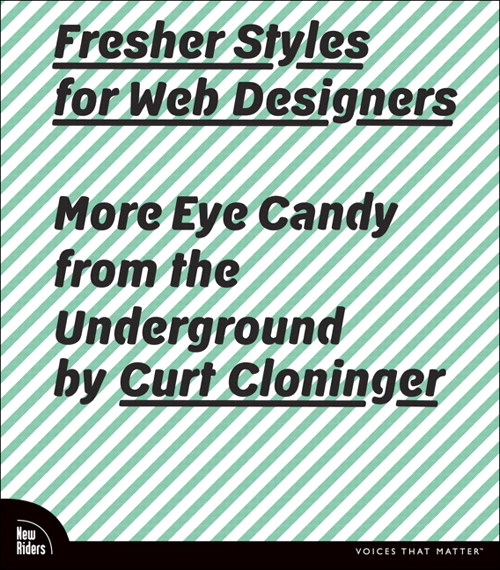 Fresher Styles for Web Designers: More Eye Candy from the Underground
eBook (Adobe DRM)
Your Price: $25.59
List Price: $31.99

ℹ This eBook requires the free Adobe® Digital Editions software.

Before downloading this DRM-encrypted PDF, be sure to:

Install the free Adobe Digital Editions software on your machine. Adobe Digital Editions only works on Macintosh and Windows, and requires the Adobe Flash Player. Please see the official system requirements.
Authorize your copy of Adobe Digital Editions using your Adobe ID (select AdobeID as the eBook vendor). If you don't already have an Adobe ID, you can create one here.
Copyright 2009
Pages: 216
Edition: 1st
eBook (Adobe DRM)
ISBN-10: 0-321-60264-1
ISBN-13: 978-0-321-60264-0
Fresher Styles for Web Designers surveys eight innovative, contemporary visual design styles that break the mold and offer creative solutions to a variety of interactive design challenges. Readers will learn practical ways to incorporate these design approaches into their commercial work, using specific online examples as illustration.

In 2001, Cloninger wrote Fresh Styles for Web Designers, arguing that beauty actually enhances usability. Since then, styles and technologies have evolved, but clients still expect sites that both function well and visually entice. This book will inspire web designers and developers to deliver sites that do both. There are plenty of web design books that teach code. There are several books about contemporary print design that discuss visual aesthetics. This book stands out because it synthesizes experimental web design innovations with commercial marketing goals (without ignoring usability concerns).

Table of Contents
1. Introduction
2. No Style a. Influences b. Characteristics c. Uses
3. Latest Modern Style a. Influences b. Characteristics c. Uses
4. Psychedelic Minimalist Style a. Influences b. Characteristics c. Uses
5. Dot Matrix Style a. Influences b. Characteristics c. Uses
6. 1996 Dirt Style a. Influences b. Characteristics c. Uses
7. Corkboard Sprawl Style a. Influences b. Characteristics c. Uses
8. Spatial Flash Style a. Influences b. Characteristics c. Uses
9. Fullscreen Fashion Style a. Influences b. Characteristics c. Uses
10. Dusty Cowboy Style a. Influences b. Characteristics c. Uses
11. Hand-Drawn Analog Style a. Influences b. Characteristics c. Uses
12. Conclusion
---
