Publishers of technology books, eBooks, and videos for creative people
Home > Store > Digital Photography > Digital Cameras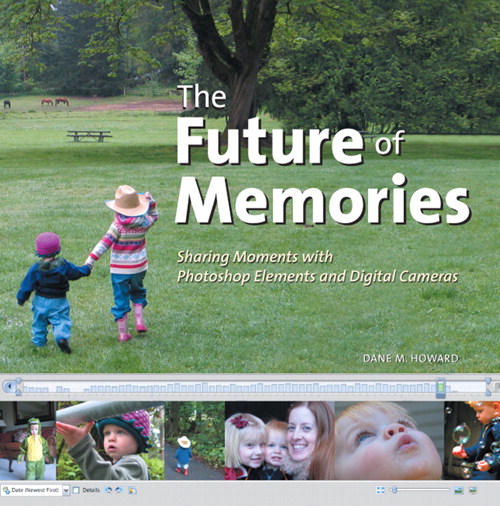 Future of Memories: Sharing Moments with Photoshop Elements and Digital Cameras, The
eBook (Adobe DRM)
Your Price: $22.39
List Price: $27.99

ℹ This eBook requires the free Adobe® Digital Editions software.

Before downloading this DRM-encrypted PDF, be sure to:

Install the free Adobe Digital Editions software on your machine. Adobe Digital Editions only works on Macintosh and Windows, and requires the Adobe Flash Player. Please see the official system requirements.
Authorize your copy of Adobe Digital Editions using your Adobe ID (select AdobeID as the eBook vendor). If you don't already have an Adobe ID, you can create one here.
Copyright 2006
Pages: 256
Edition: 1st
eBook (Adobe DRM)
ISBN-10: 0-321-44138-9
ISBN-13: 978-0-321-44138-6
There are plenty of books out there that tell you how to create great images using digital cameras and Photoshop Elements. But great images do not equal great stories—and nobody knows this better than author Dane Howard, who draws on his years of professional experience to demonstrate how you can use everyday technology to share your stories in dramatic new ways. By focusing on the tale rather than the technology, Dane provides the tactical and practical advice you need to create a compelling narrative through digital images. In the end, the story—not the tools—dictates the process, and at each step along the way Dane urges you to ask the right questions, set up your shots, organize your images, and use your tools in a way that will advance your stories. With complete coverage of all of today's photo-sharing mediums (including photoblogging, mobile devices, image-sharing sites, and more), this colorful, creative guide shows users you how to build visually rich narratives to share with family and friends.
