Home > Store > Design > Voices That Matter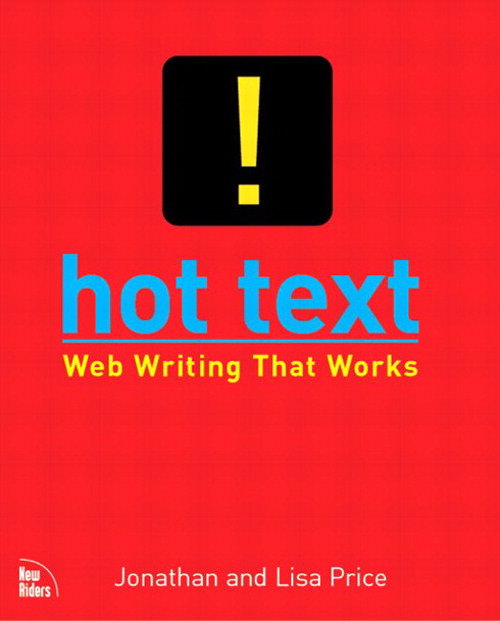 Share
|




Register your product to gain access to bonus material or receive a coupon.
Hot Text: Web Writing that Works
Book
Your Price: $32.00
List Price: $40.00
Usually ships in 24 hours.
Copyright 2002
Dimensions: 7-3/8" x 9-1/8"
Pages: 528
Edition: 1st
Book
ISBN-10: 0-7357-1151-8
ISBN-13: 978-0-7357-1151-8
Attention, Web writers! This book will show you how to craft prose that grabs your guests' attention, changes their attitudes, and convinces them to act. You'll learn how to make your style fast, tight, and scannable. You'll cook up links that people love to click, menus that mean something, and pages of text that search engines rank high. You'll learn how to write great Web help, FAQs, responses to customers, marketing copy, press releases, news articles, e-mail newsletters, Webzine raves, or your own Web resume. Case studies show real-life examples you can follow. No matter what you write on the Web, you'll see how to personalize, build communities, and burst out of the conventional with your own honest style.
Author's Site
Online Sample Chapters
Making Text Scannable on a Web Page
Who Am I Writing for, and, Incidentally, Who Am I?
Write Menus that Mean Something
Downloadable Sample Chapter
Click below for Sample Chapter related to this title:
0735711518.pdf
Table of Contents


Home Page.

I. CATCH THE NET SPIRIT.
1. Who Am I Writing for, and Incidentally, Who Am I?
2. What Kind of Thing Am I Creating?
3. What Will the Web Do to My Text?
4. Attention!
II. WRITE LIKE A HUMAN BEING.
5. Idea #1: Shorten That Text.
6. Idea #2: Make Text Scannable.
7. Idea #3: Cook Up Hot Links.
8. Idea #4: Build Chunky Paragraphs.
9. Idea #5: Reduce Cognitive Burdens.
10. Idea #6: Write Menus That Mean Something.
III. FINE-TUNE YOUR STYLE FOR THE GENRES.
11. Writing in a Genre.
12. Creating Customer Assistance That Actually Helps.
13. Persuading Niche Markets, Individuals, and the Press.
14. Making News That Fits.
15. Entertaining People Who Like to Read.
16. Getting a Job.
IV. BECOME A PRO.
17. So You Wannabe a Web Writer or Editor.
V. BACKUP.
18. Writerly Sites.
19. If You Like to Read.
Index.
FREE

TRIAL WITH PURCHASE!
---
By completing any purchase on Peachpit, you get unlimited 15 day access to thousands of Training Resources on creative topics You will also get a discounted rate of just $17.99/month if you decide to continue with a paid subscription.
Other Things You Might Like

eBook (Watermarked) $10.00

By Joe Casabona
eBook (Watermarked) $5.00

eBook (Watermarked) $8.00