Home > Store > Adobe Photoshop > Workflow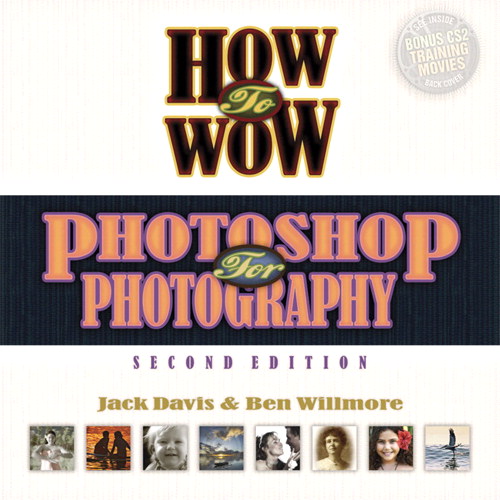 How to Wow: Photoshop for Photography, 2nd Edition
Book
Your Price: $31.99
List Price: $39.99
We're temporarily out of stock, but order now and we'll send it to you later.
Related Products
Copyright 2006
Dimensions: 9 X 9
Pages: 288
Edition: 2nd
Book
ISBN-10: 0-321-35750-7
ISBN-13: 978-0-321-35750-2
Wouldn't it be great if you could have two of the world's most sought-after Photoshop teachers sitting next to you at your computer as you navigate through the infinite possibilities of your digital photographic darkroom? How to Wow: Photoshop for Photography, second edition, is the next best thing. It's the brainchild of two Photoshop powerhouses---Jack Davis and Ben Willmore, both world-renowned authors and educators, who have developed an effective way to help you reach your full creative potential.
Jack and Ben guide you step-by-step through real-world projects, with an emphasis on uncompromising quality, last-minute flexibility, and go-home-at-night speed! You'll receive tips and techniques on everything from streamlining your workflow to solarizing without chemicals to balancing out skin tones. Whether it's optimizing the color and tone of your image, retouching cosmetic undesirables, reconstructing priceless heirlooms, or creating sepia color treatments, you'll be given the tools at every stage of the creative process in order to learn How to Wow!
The book begins with the essentials of workflow (including color management, the new Adobe Bridge, and Camera Raw 3), and then moves on to adjusting and optimizing and retouching and repairing. Next comes the fun stuff, with projects focusing on enhancing and exaggerating aspects of your photos for maximum impact, followed by projects on color and black-and-white treatments and artistic effects and overlays. Finally, there is a chapter devoted to combining your images and creating custom photo collages using instant Wow Tools Presets, available on the CD-ROM accompanying the book.


TRIAL WITH PURCHASE!
---
By completing any purchase on Peachpit, you get unlimited 15 day access to thousands of Training Resources on creative topics You will also get a discounted rate of just $17.99/month if you decide to continue with a paid subscription.