Home > Store > Web Design & Development > Adobe Dreamweaver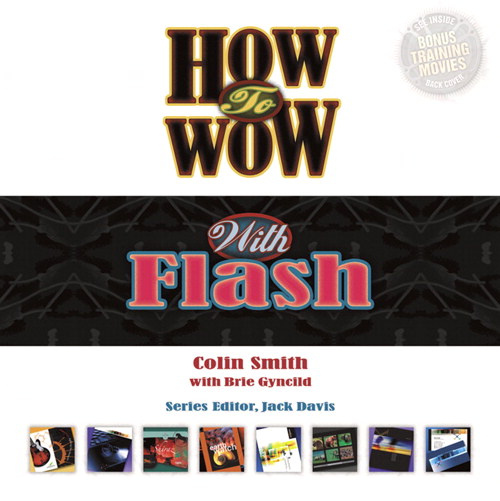 How to Wow with Flash
Book
This product currently is not for sale.
eBook (Adobe DRM)
Your Price: $25.59
List Price: $31.99

ℹ This eBook requires the free Adobe® Digital Editions software.

Before downloading this DRM-encrypted PDF, be sure to:

Install the free Adobe Digital Editions software on your machine. Adobe Digital Editions only works on Macintosh and Windows, and requires the Adobe Flash Player. Please see the official system requirements.
Authorize your copy of Adobe Digital Editions using your Adobe ID (select AdobeID as the eBook vendor). If you don't already have an Adobe ID, you can create one here.
Copyright 2007
Dimensions: 9 X 9
Pages: 232
Edition: 1st
Book
ISBN-10: 0-321-42649-5
ISBN-13: 978-0-321-42649-9
eBook (Adobe DRM)
ISBN-10: 0-321-48292-1
ISBN-13: 978-0-321-48292-1
Wouldn't it be great if you could have one of the world's most accomplished and sought after Flash teachers sitting next to you at your computer as you navigate the infinite possibilities of Macromedia Flash 8?

How to Wow with Flash is the next best thing. Flash powerhouse—Colin Smith—renowned author, Web designer, and trainer, has developed an effective way to help you reach your full creative potential. Just like great cookbooks—the ones with short, clear-cut instructions and mouth-watering photos of the delectable concoctions—this book identifies challenges, provides simple recipes for overcoming them, and plugs in inspirational full-color photos of the glorious results.

Colin guides you step-by-step through real-world projects, with an emphasis on uncompromising quality, last-minute flexibility, and go-home-at-night speed! You'll learn tips and techniques on everything from common workflow problems and exciting Web animation techniques to custom projects and movies using Flash 8. This is a fast paced book that exposes the secrets to making things move in new ways, add interactivity, sound and video to make audiences go wow!

This book begins with the essentials of workflow and Flash foundations (including Frames, Keyframes, creating shapes, blend modes) and then moves on to motion and effects, sound and video, and widgets and interactivity. Next comes the fun with creative projects such creating sweeping motion using custom easing, generating interactive navigation, creating slide shows, using masks, producing stunning effects with Flash 8's new filters, adding looping music, and more. The How to Wow! companion CD makes it a snap and is packed with everything you need to work through the projects in the book and start creating your own Web sites and animations that wow!



CD-ROM fixes
Download the missing file from the first printing of this book.
