Publishers of technology books, eBooks, and videos for creative people
Home > Store > Apple > Operating Systems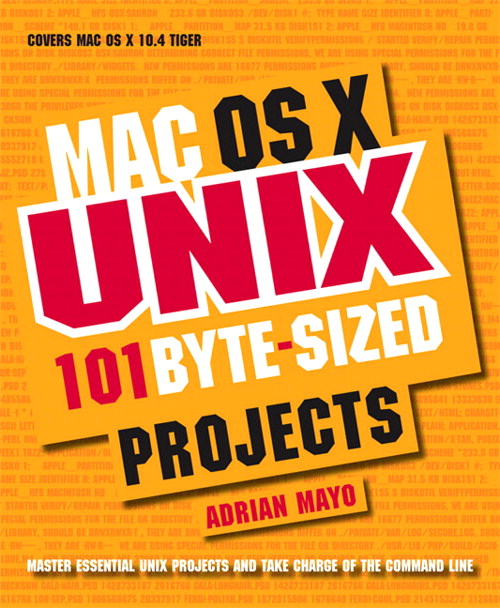 Mac OS X Unix 101 Byte-Sized Projects
eBook (Adobe DRM)
Your Price: $22.39
List Price: $27.99

ℹ This eBook requires the free Adobe® Digital Editions software.

Before downloading this DRM-encrypted PDF, be sure to:

Install the free Adobe Digital Editions software on your machine. Adobe Digital Editions only works on Macintosh and Windows, and requires the Adobe Flash Player. Please see the official system requirements.
Authorize your copy of Adobe Digital Editions using your Adobe ID (select AdobeID as the eBook vendor). If you don't already have an Adobe ID, you can create one here.
Copyright 2006
Pages: 632
Edition: 1st
eBook (Adobe DRM)
ISBN-10: 0-321-44830-8
ISBN-13: 978-0-321-44830-9
Unix is no longer someone else's OS. With Mac OS X built on top of it, Unix is becoming a household name, and more and more Mac users are ready to take it on. This book is for them!

Based on a popular series of Unix tips, this book promises to deliver what most other Unix guides fail to: comprehensive tutorials and instruction on specific Unix subjects, commands, and projects, not just a handy reference guide. Arranged into 101 mini tutorials in 11 key technology areas, this book provides all the tricks, techniques, and training that you need to understand how the system works and start using it immediately. You will quickly learn the basics to working with the Unix command line as well as work on specific tutorials/exercises, including: browsing and searching the directory file-system; viewing, searching, and processing file content; using text editors; shell scripting; cool commands; and more.


