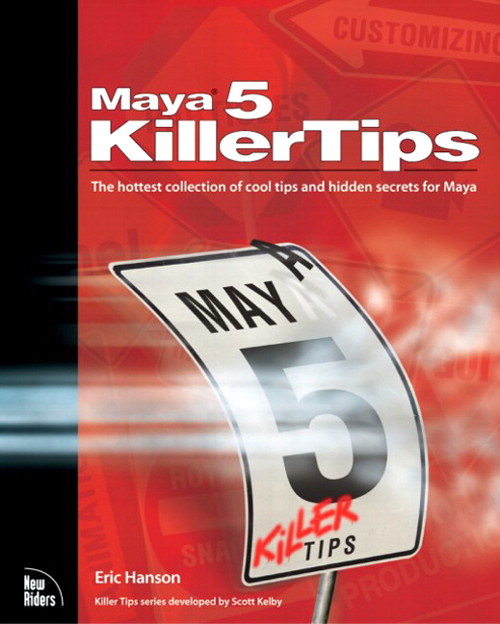 Share
|




Register your product to gain access to bonus material or receive a coupon.
Maya 5 Killer Tips
Book
This product currently is not for sale.
Copyright 2004
Dimensions: 7-3/8" x 9-1/8"
Pages: 208
Edition: 1st
Book
ISBN-10: 0-7357-1373-1
ISBN-13: 978-0-7357-1373-4
Ready to learn from a seasoned visual effects veteran? Then sit down and pay attention! In Maya 5 Killer Tips, effects wizard Eric Hanson lets the genie out of the bottle, revealing all of the Maya tricks, techniques, and shortcuts he's employed to create visual marvels for films like The Day After Tomorrow, Cast Away, Fifth Element, and more. By focusing on concise tips, informative nuggets, and seasoned productivity secrets that are rarely found in other volumes, this book takes you straight to the heart of the matter: the productivity enhancers that you usually only acquire after working with a program in an intensive professional environment. In this case, Eric reveals many of these road-tested Maya secrets: efficient modeling with NURBS and polygons; creating rich rendering results with shader networks; conveying professional camera techniques; using particle systems, dynamics; and more. Along the way he explores Maya 5's new features as well, including improved rendering and character setup options.
Online Sample Chapter
The Glamorous World of Maya Modeling: Work Smarter, Not Harder
Downloadable Sample Chapter
Sample Chapter - 3.98 mb - Chapter 3 - The Glamorous World of Modeling
Table of Contents


1. Deciphering the Hieroglyphics: Unearthing the Secrets of the Maya.

Hey, Split It. Use the Fields, Luke. Strawberry Outliner Fields Forever. Trash That Pref. Field Operators Are Standing By. Nudge 'Em. Annotate Away. Outliner Revealed at Last. Get in Line, Lowly Vertices. Scrub It. Tumble Camp. Got Spreadsheets? Panel Hopping. It's the Right Thing to Do. Drag-Drop Fever. Last Action Hero. Last Command Hero. Marquee Zooming. Gestural Transforms. Incremental Saves. Rotation Snapping. Clip It, Clip It Good. Tools Versus Actions. RMB Selection Menus.
2. Taming the Beast Customizing Your Interface.
Start Up Your Own Image. True Gestural Marking Menus. Color My World. Do-It-Yourself Shelving. Shelf Icon Decor. Custom Marking Menus—the Bomb. My Very Own Attributes. Click, Drag, Select! To GUI or Not to GUI? Massive or Tiny Manipulation. Pick Nothing, Nothing at All. Prefs in Your Pocket. Working Your Units. Y-Up Versus X-Up. Smooth Mover. Click Box Size for High-Res Monitors. Top-Priority Clearance. We Don't Need No Stinkin' Dynamics. Don't Lower Yourself to Component Mode. More and More Image Formats.
3. The Glamorous World of Modeling Work Smarter, Not Harder.
Aligned Image Planes. Alpha Onion Skins. Maya Card Tricks. Mapping Versus Modeling. Insert Here While Drawing Curves. Explicit, R-Rated Nurb Tesselation. Tesselation Versus CVs. Linear Versus Cubic Heroics. Constrain Those Unruly Curves. The Revolutions Will Not Be Televised. Bi-Railing the Missing Glass Slipper. Slipper Rebuilding. Shady, Undesirable Elements in Maya. Randomize Those CVs. Junkyard Dumping Simulation. Use of Photoshop as a Modeling Tool. Autotracing for Fun and Profit. Photoshop Paths to Maya Curves. Wrestling with Displacement. Animate Your Modeling. Set Subtleties. Transform Tools Shortcut. Interrogating Points as to Where They Live. Face Propogation Via Shell in Poly Selection Constraints.
4. Embracing the Revolution Lighting Your Way.
Tweaking Lots o' Lights. Reuse Those Depth Maps. Cookies and Gobos. Lighting with Paint. Kill That Ambient! Cubic Point Arrays. Fear of Point Light Shadow Maps. Light Color Mapping Versatility. Poor Man's Global Illumination. HDR GI CGI TLA. Paint Those Shadows. Shadow Platters. Glows, Fogs, and Flares, Oh My! Shadow Map Woes. Use of Thresholded Shader Glows. Dancing Fire Light. Link Those Lights. Shadow Lights. Light Cycles. Spotlight Decay Regions. Consulting Sun Charts. Directional Shadow Maps.
5. Rags to Rendering: Getting a Grip on Shading.
Imperfection Is Your Goal. Procedural Mapping Versus Scanned Files. Multilister Versus Hypershade—Que Es Mas Macho? Baking the Light. Color Offset and Gain—The Key to Shader Networks. The Joy of Ramps. The Underdog of Specular Mapping. Green Screen Playblasting. Heavy Metal Rendering. Embracing Dirt and Grime. Triplanar Projection to the Rescue. Layer It On. Pass That Shadow Please. Striking a Chord Length. Glow Flickering No More. Determining Texture Resolution. Sampler Info Facing Ratio Mania. Render Scripts Rule! Layered Shaders to Go. To Premult or Not to Premult. Getting Wet. Color Remapping.
6. From Home Movies to Hollywood: Camerawork Basics.
Rule of Thirds. Perspective Basics. Perceptual Perspective Correction. Panel View Versus Film Back Versus Resolution. Creating Natural Camera Motion. Professional Camera Animation Setup. Camera Projection Magic. No Auto Anything (Especially Camera Clipping). Simplify, Simplify for Animation. Undos the Views. Film Formats for Newbies. Animated Image Planes Gone Wild. Image Plane Speedup. Wresting Control of Fcheck. Snapping to the Elusive Camera Pivot. Streamlining Depth of Field. Motion Blur Choices. 3d Stereoscopic Rendering.
7. Building Character (Animation That Is) More Than Skin-Deep.
Getting Oriented with Your Joints. FK, IK, OK? Smooth Skinning Hotkeys for Painting Weights. Please Constrain Yourself. Not Your Grandfather's Utility Nodes. Squash and Stretch Expressions. Scripting Your Setup. Bulging Biceps with Sculpt Deformers. Blendshape Facials. Wrap Deformers. Flowing Down the Path. Cycle Those Curves. Free Then Break Your Tangents. Flap Your Wings with Expression. Graph Editor Expressions. Finding Those Reclusive Local Axes. Prompting Multiple Keyframes. Breakdown Your Keys. Driving Miss Driven Key. Time Slider Tricks. Texture Map Your Animation. Recording Your Mouse.
8. Dangerous Effects Animation Things You Can Do at Home.
Dynamic Window Layouts. Use Playblasting to Check Motion. A One-Minute Ocean. Soft Body Rope Tricks. All Soft Bodies Must Rest. Jump That Rope. A Simple Rigid Body Animation. A Simple Expression to Move a Passive Rigid Body. Using Particles to Visualize Noise Versus Random. Randomly Sized Particles. Bigger Particles Fall Faster. Playback Every Frame or Else. Making Particles Collide with a Floor. Particle Looping. Kill Particles When They Go Below a Certain Height. Working On the Chain Gang. Battle Two Turbulence Fields Together. Swarming Bugs or Attaching Fields to Individual Particles. Make a Particle Emit a Trail of Particles. Emit Particles from an Image or Texture. Know Your Field Options. Get Your Turbulence On. Emit More Particles as the Emitter Goes Faster. Particle Replacement. Invasion of the Blob. Cache and Cache Again.
9. Getting Under the Hood Mud Wrestling with MEL.
Huh? Using whatIs and help. Variables and Eval This, Eval That. Acting Conditionally. The Sheer Excitement of Array Variables. Doing the Loop. Writing Custom Procedures. Oops: warning, error, and catch. Using createNode, nodeType, and ls. Adding, Getting, Setting, and Connecting Attributes. Array Attribute or Attribute Array?
10. Real World Production Methods Otherwise Known as Stress.
Taming the RAM Beast. Minimizing Texture Aliasing. Pre and Post MEL. Lock Down Those Shadows. General Speed Improvement. Reducing Motion Blur Artifacts. Check Your Release Notes. Setting Up Mattes. Render Diagnostics. Z Depth Renders. Rendering Larger Than 8K. A Final Render Checklist.
FREE

TRIAL WITH PURCHASE!
---
By completing any purchase on Peachpit, you get unlimited 15 day access to thousands of Training Resources on creative topics You will also get a discounted rate of just $17.99/month if you decide to continue with a paid subscription.
Other Things You Might Like

By Jeremy Birn
Book $47.99

eBook (Watermarked) $19.19

By Mark Spencer
Book $43.99