Home > Store > Web Design & Development > Adobe Dreamweaver
Mobile Development with Adobe Flash Professional CS5.5 and Flash Builder 4.5: Learn by Video
Copyright 2012
Edition: 1st
DVD
ISBN-10: 0-321-78810-9
ISBN-13: 978-0-321-78810-8
Register your product to gain access to bonus material or receive a coupon.
Video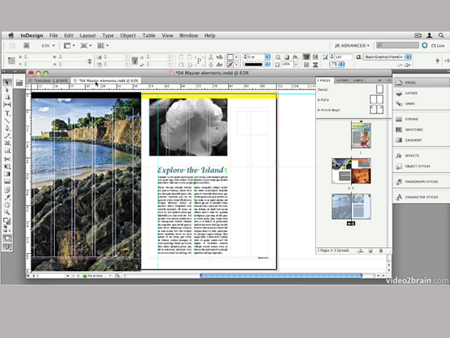 You need to upgrade your Flash Player. You need version 9 or above to view this video. You may download it here. You may also see this message if you have JavaScript turned off. If this is the case, please enable JavaScript and reload the page.
This innovative, in-depth video training course and accompanying 48-page full-color book, is aimed at designers and developers looking to create applications for mobile devices using the popular Adobe Flash Platform

After an industry debate that made headlines for months, designers and developers can use their Adobe Flash Professional, Flex, and ActionScript skills to quickly begin developing applications for the iPhone, iPad, and iPod touch, as well as for Android devices. In this in-depth course, you'll learn from the ground up how to set up your system to become a mobile developer, create applications, and master each step of the publishing process (including how to get a working Apple certificate to place your app in the App Store). Coverage also includes features in new CS5.5 such as improved Text Layout Framework functionality and code snippets that let you easily take advantage of mobile features such as the accelerometer. You'll also learn best-practices for working smart, as well as what kinds of applications and utilities are most appropriate for Flash-platform development.

An experienced instructor presents hours of exceptional quality video tutorials, complete with lesson files, assessment quizzes, and review materials. The video is wrapped in a unique interface that allows the viewer to jump to any topic and also bookmark individual sections for later review. The unique Watch-and-Work mode shrinks the video into a small window to allow the student to work alongside in Flash. Project files used in the lessons are included on the disc so viewers can practice what they've learned, and interactive review questions help reinforce freshly gained knowledge.

Selected videos can be downloaded for viewing on iPhones, iPods, and other compatible mobile devices.

Customer Reviews
1 of 1 people found the following review helpful
Great Overview Excellent Quality. Too much Platform Flip Flopping
,
November 25, 2011
This review is from:

Mobile Development with Adobe Flash Professional CS5.5 and Flash Builder 4.5: Learn by Video (Paperback)
I purchased these because I like many Actionscript 3 developers (which means Flash Builder and with the Flex/Air SDK) would like to use our skills to create mobile apps.
These are excellently produced videos. The DVD has all completed examples as well. You will get a wide exposure to functionality. The presenters are well practiced, clearly spoken and pleasant to listen to.
I would say the videos are good for getting an overview of how to build mobile apps with Flash IDE and Flash Builder.
That's the good news.
The drawbacks
This will fall short if your goal is suitable starting path to making you feel comfortable to go on your own. You will feel a scattered as where to start and uncertain whether or not you have all you need to go on.
First there are two authors using two different platforms. Two authors is fine but one presents in Flash IDE and one presents in Flash builder. Topics are split between them so for...
Read more
Why not?
,
July 6, 2012
By
Riccardo Moschetti
(Milano, Italy) -
See all my reviews
This review is from:

Mobile Development with Adobe Flash Professional CS5.5 and Flash Builder 4.5: Learn by Video (Paperback)
It is true that this video can be a little "scattered" (the different lessons do not seem to follow a natural "timeline" but they are rather a "collection"; however, it gives a VERY good insight about iOS and Android capabilities which you can use in Flash and which are not explained pretty much anywhere else.
For instance, the usege of the webView for mobile ads is rarely found elsewhere. Optimization issues are taken into consideration as well.
It covers both Flash Builder (which interests me more) and Flash Professional.
Of course, you need to know ActionScript 3 before approaching it.
Other reviews here: [...]
Break a leg with mobile development in Flash, you all!
0 of 2 people found the following review helpful
Course Not Worth for the Price Tag
,
December 28, 2011
This review is from:

Mobile Development with Adobe Flash Professional CS5.5 and Flash Builder 4.5: Learn by Video (Paperback)
Hi All,
My Scores out of 5 are as follows:
Amazon.com = 5 [ Great Services for Delivery & Packing & Updates.. Its Awesome as Always] Thanks Amazon..
LearnByVideo Course: Only 2
[ 1. Its not at all Detailed & Well Organised Course; Looking at the Author I was expecting quiet a Lot & specially for that price. So i am not at all impressed with the content
2. Information which is presented in the Course Must have been more In tensed with more number of Different Application Scenarios & testing on actual iOS Devices too
as there are some additional stuff you must need in order to get SQLite working on iOS & that is NOT even mentioned in the course which is kind of unacceptable to me
3. Price seems Rather Unacceptable now that i have seen the course, I would not recommend this product at all.
]
Regards,
John
Share your thoughts with other customers:
›
See all 3 customer reviews...
Purchase Reward: 15 Day Trial to Creative Edge
By completing any purchase on Peachpit, you become eligible to try out
Creative Edge
free for 15 days.
Get unlimited online access to thousands of training resources on creative topics. You will also get a discounted rate of just $17.99/month if you decide to continue with a paid subscription.
Other Things You Might Like