Home > Store > Adobe Photoshop > Workflow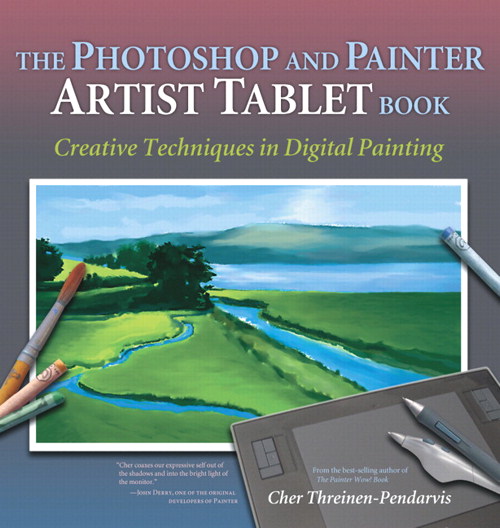 Share
|




Register your product to gain access to bonus material or receive a coupon.
Photoshop and Painter Artist Tablet Book, The: Creative Techniques in Digital Painting
Book
Your Price: $47.99
List Price: $59.99
Usually ships in 24 hours.
Copyright 2005
Dimensions: 9 X 9-1/2
Pages: 256
Edition: 1st
Book
ISBN-10: 0-321-16891-7
ISBN-13: 978-0-321-16891-7
As much art book as guide, The Photoshop and Painter Artist Tablet Book: Creative Techniques in Digital Painting uses traditional drawing and painting theory exercises, coupled with real-life projects, to show readers how they can use Painter and Photoshop with pressure-sensitive tablets to draw and paint with a computer. Award-winning artist and author Cher Threinen-Pendarvis shares her own drawings and paintings with the readers, sharing her creative thought processes and composition design secrets that she uses in her own work. In this gorgeous, large format, full-color book, Cher takes readers step-by-step through a variety of projects designed to improve their drawing, composition, and conceptual thought processes while exploring different uses of the many brushes available in Painter and Photoshop. Along the way, Cher shows readers how to set up a pressure-sensitive tablet and stylus; use mark-making tools in Photoshop and Painter; create tonal, gestural, and contour drawings with a pressure-sensitive tablet and stylus; incorporate scanned artwork into digital paintings; use photos as a reference for the illustrations; make creative use of color and ideas for composition design; translate traditional color theory to digital color tools; simulate canvas and paper; create mixed media; and more. All the concepts, processes, and projects in this book can be applied to readers' own drawings and paintings, and the lessons and examples demonstrated in this book are designed to work with the most current versions of Painter and Photoshop, as well as most earlier versions of the software. In addition, readers will find brushes, textures, images and other goodies on the book's companion Web site that they can use as they work through the projects in the book.


Related Article
Table of Contents
Table of Contents: About the Author and Artist Foreword -by Bert Monroy Introduction 1 The Digital Art Studio 2 Photoshop, Painter, and Tablet Basics for Artists 3 Assembling Brushes and Paint 4 Drawing and Tablet Exercises 5 The Illusion of Volume 6 Sensitive Tone and Modeling 7 A Sense of Atmosphere 8 Starting with a Scanned Drawing 9 Using a Photo Reference for Painting 10 Defining the Focal Point 11 Simulating Paper and Canvas 12 Mixing Media 13 Retouching, Tinting, and Painting 14 Composing from the Imagination Gallery Appendices Index
FREE

TRIAL WITH PURCHASE!
---
By completing any purchase on Peachpit, you get unlimited 15 day access to thousands of Training Resources on creative topics You will also get a discounted rate of just $17.99/month if you decide to continue with a paid subscription.
Other Things You Might Like


eBook (Watermarked) $28.79

By Dave Cross
eBook (Watermarked) $8.00