Home > Store > Web Design & Development > Usability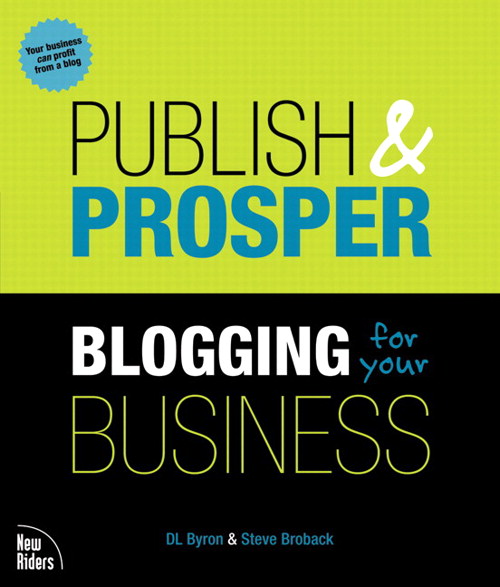 Publish and Prosper: Blogging for Your Business
eBook (Adobe DRM)
Your Price: $17.59
List Price: $21.99

ℹ This eBook requires the free Adobe® Digital Editions software.

Before downloading this DRM-encrypted PDF, be sure to:

Install the free Adobe Digital Editions software on your machine. Adobe Digital Editions only works on Macintosh and Windows, and requires the Adobe Flash Player. Please see the official system requirements.
Authorize your copy of Adobe Digital Editions using your Adobe ID (select AdobeID as the eBook vendor). If you don't already have an Adobe ID, you can create one here.
Copyright 2006
Pages: 176
Edition: 1st
eBook (Adobe DRM)
ISBN-10: 0-321-44710-7
ISBN-13: 978-0-321-44710-4
While personal blogs take up much of the blogosphere, blogs are quickly gaining popularity in business as an inexpensive and amazingly effective marketing tool. It's time for a practical book about business blogging: this is the first book to demonstrate how businesses are blogging and how you can use blogging technology to converse with your customers to build your brand and sell your products.
Written from the business person/designer's perspectives, this book shows how businesses can leverage current, real-world blogging techniques, tools, and platforms to promote and enhance their ventures. The key idea is that the conversation with your market is stronger and more meaningful with a blog. Filled with practical information and a how-to approach, this book provides case studies of companies as large as Boeing or General Motors and as small as Clip-'n-seal. Readers will learn about the types of business blogs, how companies use blogs, how to sell blogs to management and IT, effective blog design, content, and conversation, pitfalls to avoid, how to develop Web presence, and more.
