Publishers of technology books, eBooks, and videos for creative people
Home > Store > Gadgets and Digital Lifestyle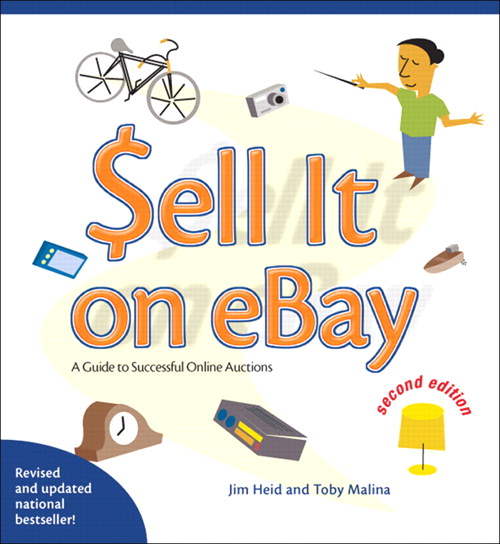 Sell it on eBay: A Guide to Successful Online Auctions, Second Edition, 2nd Edition
eBook (Adobe DRM)
Your Price: $15.99
List Price: $19.99

ℹ This eBook requires the free Adobe® Digital Editions software.

Before downloading this DRM-encrypted PDF, be sure to:

Install the free Adobe Digital Editions software on your machine. Adobe Digital Editions only works on Macintosh and Windows, and requires the Adobe Flash Player. Please see the official system requirements.
Authorize your copy of Adobe Digital Editions using your Adobe ID (select AdobeID as the eBook vendor). If you don't already have an Adobe ID, you can create one here.
Copyright 2006
Dimensions: 8-1/2 X 9-1/4
Pages: 184
Edition: 2nd
eBook (Adobe DRM)
ISBN-10: 0-321-50230-2
ISBN-13: 978-0-321-50230-8
eBay can mean big business, but only if you know how to use the auction site effectively. To ensure that your wares don't just sell, but sell quickly, at the desired price, and without any complications in shipping or payment, you need this no-nonsense guide. This artfully designed book by eBay aficionados Jim Heid and Toby Malina delivers the lowdown on selling on eBay. Toby and Jim's clear, authoritative text is augmented by the book's appealing and helpful graphics. They show you how to take flattering photos of your items and present them in attractive, effective eBay pages. The guide also includes up-to-date coverage of all that's new and improved on eBay—from My eBay 2.0 to PayPal Buyer Credit, advanced search functionality, the Shipping Center, eBay Accounting Assistant, and more. Filled with need-to-know information about everything from payment methods to shipping considerations and establishing starting bid prices, this entertaining and practical guide is an essential stop on the road to eBay success.
