Home > Store > Web Design & Development > Usability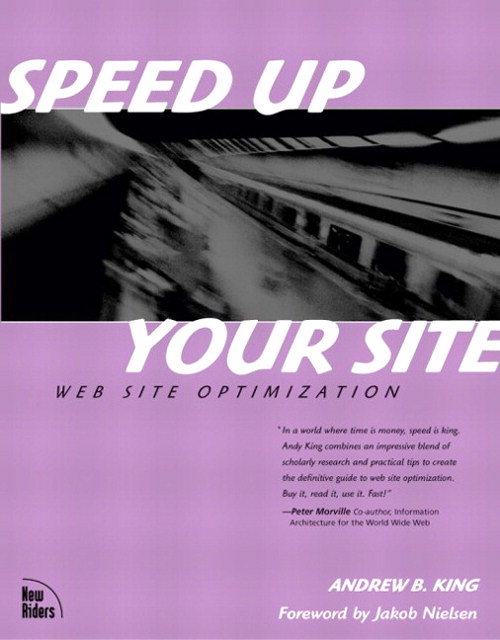 Share
|




Register your product to gain access to bonus material or receive a coupon.
Speed Up Your Site: Web Site Optimization
Book
This product currently is not for sale.
Copyright 2003
Dimensions: Special (all other)
Pages: 528
Edition: 1st
Book
ISBN-10: 0-7357-1324-3
ISBN-13: 978-0-7357-1324-6
There's a time bomb on the web: user patience. It starts ticking each time someone opens one of your pages. You only have a few seconds to get compelling content onto the screen. Fail, and you can kiss your customers and profits goodbye.
You can't count on fast connections either. Most of your customers are still sucking content through a 56K straw. You have to serve up greased lightning or they'll bail. That's why you picked up this book. In it you'll learn how to cut file sizes in half. You'll trim (X)HTML, CSS, graphics, JavaScript, multimedia, and bandwidth costs. Real-world examples illustrate techniques with before and after code and percentage savings. After reading this book, you'll know how to make your pages literally "pop" onto the screen.
Online Sample Chapters
Optimizing JavaScript for Download Speed
Optimizing JavaScript for Execution Speed
Table of Contents


Foreword.


Introduction.

I. THE PSYCHOLOGY OF PERFORMANCE.
1. Response Time: Eight Seconds, Plus or Minus Two.
Speed: A Key Component of Usability. A Brief History of Web Performance. Response Time and User Satisfaction. Bailout Rates and Attention Thresholds. Attunability. Summary.
2. Flow in Web Design.
On Flow and Mihaly Csikszentmihalyi. What Causes Flow Online? Enabling Flow with Web Design. Summary.
II. OPTIMIZING MARKUP: HTML AND XHTML.
3. HTML Optimization.
What Is HTML Optimization? Increasing Complexity=Higher Bandwidth Designs. How Modern Browsers Work with HTML. How to Optimize Your HTML. Summary.
4. Advanced HTML Optimization.
Table Tips. Form Optimization. URL Abbreviation. HTML and Compression. Summary.
5. Extreme XHTML.
Benefits of XHTML. XHTML versus HTML. Anatomy of an XHTML Document. The Syntactical Rules of XML. Converting from HTML to XHTML. Optimizing XHTML. Summary.
6. Case Study: PopularMechanics.com.
Automatic Optimization. Manual Optimization. Summary.
III. DHTML OPTIMIZATION: CSS AND JAVASCRIPT.
7. CSS Optimization.
Apply Styles Wisely. Remove Whitespace. Cut the Comments. Minimize HTTP Requests. Use Simple Selectors and Substitution. Use Grouping. Inheritance. Layer Styles for Speed. Use Shorthand Properties. Optimize CSS Colors. Length Units: Everything Is Relative. Summary.
8. Advanced CSS Optimization.
Optimizing CSS Rules. Substitution. Tables and CSS. CSS Layout Control. Summary.
9. Optimizing JavaScript for Download Speed.
When to Opt for Optimization. Trim the Fat. Apply JavaScripts Wisely. Minimize HTTP Requests. Abbreviate and Map. Crunching and Obfuscation. JavaScript and Compression. Summary.
10. Optimizing JavaScript for Execution Speed.
Design Levels. Measure Your Changes. Algorithms and Data Structures. Refactor to Simplify Code. Minimize DOM Interaction and I/O. Local Optimizations. Expression Tuning. Summary.
11. Case Study: DHTML.com.
IV. GRAPHICS AND MULTIMEDIA OPTIMIZATION.
12. Optimizing Web Graphics.
Capturing and Preparing Images. JPEG Optimization. GIF Optimization. PNG Optimization. Download Time: Packet Count versus Page Size. On the Horizon: JPEG2000 and Vector-Based Graphics. Summary.
13. Minimizing Multimedia.
Multimedia Basics. Audio Compression and Optimization. Video Optimization. PDF Optimization. Summary.
14. Case Study: Apple.com.
Output. Tracks. Image. Adjust. Encode. Audio. Final Results.
V. SEARCH ENGINE OPTIMIZATION.
15. Keyword Optimization.
The Big Picture. Keyword Optimization Guidelines. Spider-Friendly Design Tips. Page Characteristics of High-Ranking Results. Summary.
16. Case Studies: PopularMechanics.com and iProspect.com.
PopularMechanics.com. iProspect.com.
VI. ADVANCED OPTIMIZATION TECHNIQUES.
17. Server-Side Techniques.
Server-Side Includes. Advantages of SSI: Speed and Broad Compatibility. Tuning mod_include. Server-Side Browser Sniffing. URL Abbreviation with mod_rewrite. Form and CGI Optimization. No More www. Summary.
18. Compressing the Web.
Text Compression Algorithms. Content Compression. Content Compression: Client Side. Content Compression: Server Side. Proxy Server-Based Content Compression. Benchmarking Tools. On the Horizon. Summary.
19. Case Studies: Yahoo.com and WebReference.com.
Abbreviating Yahoo.com. Abbreviating WebReference.com.
Search Engine Visibility Appendix Excerpt.
Index.
Errata
Errata for the book - Updated 07/22/03 - 63 kb - Errata3243.pdf
FREE

TRIAL WITH PURCHASE!
---
By completing any purchase on Peachpit, you get unlimited 15 day access to thousands of Training Resources on creative topics You will also get a discounted rate of just $17.99/month if you decide to continue with a paid subscription.
Other Things You Might Like

By Larry Ullman
Book $35.99