Home > Store > Digital Photography > Technique
Strobist Photo Trade Secrets, Volume 2: Portrait Lighting Techniques
By Zeke Kamm
Published Dec 9, 2010 by Peachpit Press. Part of the One-Off series.

Copyright 2011
Dimensions: 4-3/4 X 7
Pages: 54
Edition: 1st

Book
ISBN-10: 0-321-75288-0
ISBN-13: 978-0-321-75288-8
Register your product to gain access to bonus material or receive a coupon.
Product Author Bios
Fine art portrait photographer Zeke Kamm has spent over 15 years writing and developing television and feature films and is the editor of the online Nice Photography Magazine (www.nicephotomag.com) and Trade Secret Cards (www.tradesecretcards.com).
Video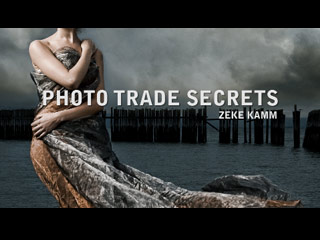 You need to upgrade your Flash Player. You need version 9 or above to view this video. You may download it here. You may also see this message if you have JavaScript turned off. If this is the case, please enable JavaScript and reload the page.
Strobist Photo Trade Secrets volumes 1 and 2 are all about giving you the inspiration and tools to help make your photographs the best they can be. It doesn't take hundreds of pages of instructions or piles of complicated theories to take great photographs. Photo Trade Secrets use microlessons—each with a simple-to-understand diagram, tips, and a clear description accompanying an inspiring image—so you can spend less time reading and more time shooting.

Photo Trade Secrets postcard books are high-quality trade paperbacks, with perforated pages of thick card stock—so you can simply tear them out and take individual microlessons with you when you shoot.

Whether you duplicate the photos in the book or use the techniques as a takeoff point for creating your own dynamic family photos, killer commercial shots, or eyecatching masterworks, you'll find Photo Trade Secrets to be the fastest, most fun and effective way to take your photography to the next level.

Grab your Photo Trade Secrets and get out there and shoot!


Customer Reviews
5 of 5 people found the following review helpful
Lots of pictures, no information on how to even take them
,
March 10, 2011
This review is from:

Strobist Photo Trade Secrets, Volume 2: Portrait Lighting Techniques (One-Off) (Paperback)
While Zeke Kamm features a particular photo with a diagram to along with it... that's all you get. There are no camera settings, i.e. Speed/Aperture/Iso/lens type/distance to describe how the picture was taken. It's the equivalent of buying a cookbook with lots of pretty pictures of dishes and containing a list of ingredients- but no instructions on how to mix them or even the ingredient quantity.
Nearly all photos are the standard "key light flash at 45 degrees with a fill light on the other side and another flash behind the subject" setup. The photos all look like they were enhanced in Photoshop as a good bit of photos I looked at are not in camera shots.
Without any specifics, all you are getting is a picture book with some hints... with the rest for you to figure out. You'll learn a lot more by going to Flickr and searching for "Strobist", which will give you the same pictures AND camera settings.
4 of 4 people found the following review helpful
Lots of Great Photos...But Lacking Real Info
,
May 4, 2011
By
W. Eng "papparazzi"
(New York, NY) -
See all my reviews
This review is from:

Strobist Photo Trade Secrets, Volume 2: Portrait Lighting Techniques (One-Off) (Paperback)
I was browsing through the pages and the photos were pretty amazing. Included were diagrams showing how the lighting was set up.
but one big problem....about 99% of the descriptions were lacking technical information such as the shutter speed, aperture and ISO. I have other photography lighting books and they usually mention what these technical data were used to get the shot. I know each situation would dictate different data but what we want to know is what it took to get THAT shot. Necessary info like "Was High Speed Sync used to darken the skies?", "Was that particular aperture used to allow a lower ISO?" or "Was high ISO used to bring in more ambient lighting?"
I guess i got this one when it was a gold box deal but still...money is money.
Maybe I can resell this book to someone else.
5 of 6 people found the following review helpful
Pass it by...
,
May 15, 2011
This review is from:

Strobist Photo Trade Secrets, Volume 2: Portrait Lighting Techniques (One-Off) (Paperback)
This author's writing style is self-serving and lacks depth. From the standpoint of someone that has read all of his books, my best suggestion is to stay away from his works.
Kelby does a much better job and offers more tips in one chapter than the Strobist offers in an entire book.
All fluff. No real helpful content.
Share your thoughts with other customers:
›
See all 20 customer reviews...

Buy
eBook (Watermarked)  $19.99  $15.99
Includes EPUB, MOBI, and PDF
About eBook Formats
This eBook includes the following formats, accessible from your Account page after purchase:

EPUBThe open industry format known for its reflowable content and usability on supported mobile devices.

MOBIThe eBook format compatible with the Amazon Kindle and Amazon Kindle applications.

PDFThe popular standard, used most often with the free Adobe® Reader® software.
This eBook requires no passwords or activation to read. We customize your eBook by discretely watermarking it with your name, making it uniquely yours.
Purchase Reward: 15 Day Trial to Creative Edge
By completing any purchase on Peachpit, you become eligible to try out
Creative Edge
free for 15 days.
Get unlimited online access to thousands of training resources on creative topics. You will also get a discounted rate of just $17.99/month if you decide to continue with a paid subscription.
Other Things You Might Like