Publishers of technology books, eBooks, and videos for creative people
Home > Store > Web Design & Development > CSS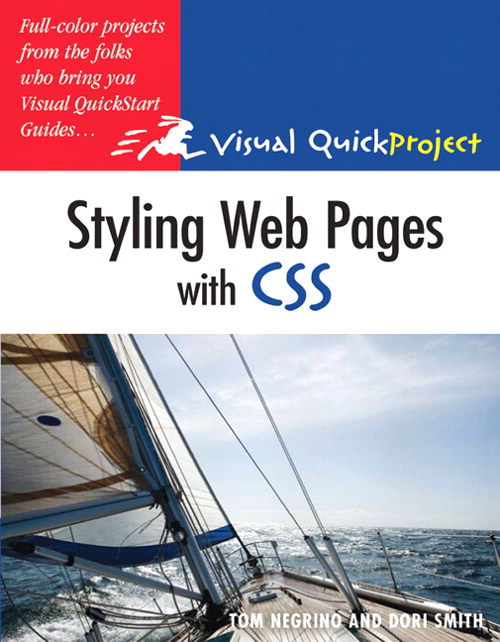 Styling Web Pages with CSS: Visual QuickProject Guide
eBook (Adobe DRM)
Your Price: $15.99
List Price: $19.99

ℹ This eBook requires the free Adobe® Digital Editions software.

Before downloading this DRM-encrypted PDF, be sure to:

Install the free Adobe Digital Editions software on your machine. Adobe Digital Editions only works on Macintosh and Windows, and requires the Adobe Flash Player. Please see the official system requirements.
Authorize your copy of Adobe Digital Editions using your Adobe ID (select AdobeID as the eBook vendor). If you don't already have an Adobe ID, you can create one here.
Copyright 2009
Dimensions: 7 X 9
Pages: 144
Edition: 1st
eBook (Adobe DRM)
ISBN-10: 0-321-57301-3
ISBN-13: 978-0-321-57301-8
Sometimes it's hard to get started with a new technology. That's where this book excels. It's not going to show Web designers everything there is to know about CSS but rather will provide a solid introduction from which to build their CSS knowledge. The beginning of the book starts with the basics -- rules, selectors, classes, IDs, the cascade, internal and external style sheets, Divs, boxes, floats, padding, margins -- everything is covered. Next comes styling elements, working with images, menus and navigation, and moving styles from internal to external style sheets. Rounding out this project-based guide is working with browsers, both old and new, and debugging CSS. Succinct and to the point, it's the perfect book for designers without a lot of time who need to understand and start using CSS.
