Adobe has released the shipping version of Lightroom 2.0.
I know we've all been waiting for this since the April release of the Lightroom 2 Beta, so head over and download your copy now!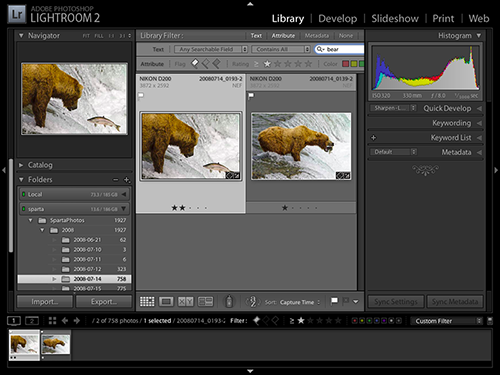 The good news for Lightroom 2 beta users is that the beta catalogs are upgradable just like the catalogs from Lightroom 1. The old catalog is not changed, but rather a new copy is created and upgraded to work with the new version.
If you've been using the beta (or following its progress) you may be aware of some of its new features, but let's review the highlights of this final version as much has changed since the beta:
Dual monitor support via a second Lightroom window. You'll finally be able to put your second monitor to good use with Lightroom 2! Enable the Second Window using the Window > Secondary Display menu or from the icon in the Filmstrip.
Maximum file dimension limitation has been raised to 65,000 pixels per side!

Improvements to the Library module interface to better facilitate searches, browsing and keywording.
Improved collection functionality including smart collections (which are dynamically created based on custom rules you configure) and output specific "creations" which facilitate the saving of settings used on a given collection of photos.
New print package option for printing multiple sizes of the same photo in a single print job.
New "print to file" option for creating a JPG version of your print layouts that can be uploaded to a print service.

Vastly improved output sharpening for printing, web and export.
New local adjustment tools in the form of a brush and a graduated filter tool. You've got to try these to believe how good they are. Your reasons for sending photos to Photoshop for additional editing have just decreased signficantly!
New features are great, but you can also expect overall improved performance as well as support for 64 bit operating systems in this release.
That's a lot to digest, and you'll really have to take it for a test drive to appreciate the significance of these improvements. Be sure to check out Lightroom Journal for more information straight from the Lightroom team, and always read the release notes that come with the installation files.

Please note that users of other Adobe products will need to update to Camera Raw 4.5 (which is also now available) to remain compatible with Lightroom 2.
Keep your eyes peeled for the following Lightroom 2 titles to soon become available from Peachpit:
Adobe Photoshop Lightroom How-Tos: 100 Essential Techniques
The Adobe Photoshop Lightroom 2 Book for Digital Photographers
Adobe Photoshop Lightroom 2 Classroom in a Book
The Adobe Photoshop Lightroom 2 Book: The Complete Guide for Photographers
Adobe Photoshop Lightroom 2: Visual QuickStart Guide
Lessons in DSLR Workflow with Lightroom and Photoshop
There will also be two Rough Cuts:
Adobe Photoshop Lightroom How-Tos: 100 Essential Techniques, Rough Cuts
Adobe Photoshop Lightroom 2 Classroom in a Book, Rough Cuts