Join New Riders, Maria Giudice, and Christopher Ireland on Thursday, October 17th, 10-11AM PDT / 1-2PM EDT, for the Rise of the DEO Webinar.
In this Webinar Facebook Director of Design Maria Giudice and Startup mentor Christopher Ireland examine topics from their stunning new book, Rise of the DEO: Leadership by Design. They'll take attendees on a deep dive into the intersection of creativity and business acumen, explaining how and why this unlikely coupling produces leaders most capable of solving our increasingly complex problems.
Just as we took our cues from MBAs and the military in casting the ideal CEO of the 20th century, we can look to design - in its broadest form - to model our future leader, the DEO. These leaders possess characteristics, behaviors and mindsets that allow them to excel in unpredictable, fast-moving and value-charged conditions. They are catalysts for transformation and agents of change. A hybrid of strategic business executive and creative problem-solver, the DEO is willing to take on anything as an object of design and looks at ALL problems as design challenges.
Attendees will learn not only why this form of leadership is essential to the success of modern organizations, but also what characteristics are best suited to this role.
About Maria Giudice
Innovator, artist, protagonist, and positive provocateur, Maria has pursued a vision of intelligent, elegant, people-centered design throughout her professional life. Her grasp of the pragmatic, the authentic, and the essential have kept her at the forefront of design and business for over 20 years. Under Maria's leadership, Hot Studio, the experience design firm she founded in 1997, grew into a full-service creative agency with an impressive list of Fortune 500 clients. In March 2013, Facebook acquired the talent behind Hot Studio in one of their largest "acqui-hires" to date, where Maria now works as Director of Product Design. She has spoken at conferences all over the world and co-teaches a Business and Design course at the California College of the Arts with Christopher Ireland.
About Christopher Ireland
Researcher, strategist, idea generator and alliance builder, Christopher started her career with the notion that businesses could benefit from a better understanding of people and culture. Her ability to create simple explanations of complex human behavior and to translate those insights into effective design strategies attracted a wide range of clients including Microsoft, HP, Pepsi, Levis, Gap and more. As CEO of Cheskin, a firm that pioneered design research in Silicon Valley, Christopher had a ring-side seat to unrivaled feats of creation, innovation and reinvention. She and her partners sold Cheskin in 2007. Since then she has taught at California College of the Arts with Maria Giudice and co-founded Mix & Stir Studio, a firm devoted to supporting design-driven startups and entrepreneurs.
Rise of the DEO: Leadership by Design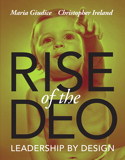 $62.98 $37.79
 Book + eBook
$34.99 $27.99
 Book
$27.99 $9.99
 Pre-order eBook