Home > Store > Design > Adobe Creative Suite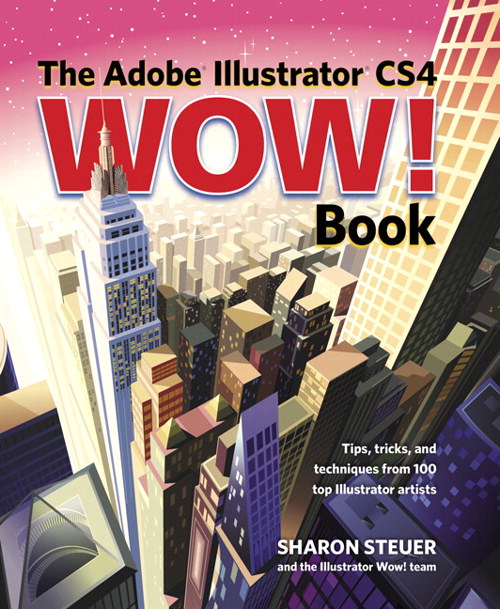 Share
|




Register your product to gain access to bonus material or receive a coupon.
Adobe Illustrator CS4 Wow! Book, The
Book
This product currently is not for sale.
Copyright 2009
Dimensions: 7-1/2 X 9-1/8
Pages: 496
Edition: 1st
Book
ISBN-10: 0-321-60558-6
ISBN-13: 978-0-321-60558-0
For years, Sharon Steuer and her international Wow! team have been reaching out to the world of professional illustrators to showcase the range and quality of work these artists are doing in Illustrator. In this revised edition of the best-selling and award-winning Illustrator Wow! Book, you'll find tips, tricks, and techniques derived from actual projects from more than 100 of the world's top Illustrator artists. Using Adobe Illustrator CS4, Sharon shows you how to integrate projects using multiple artboards, work transparency into gradients, and draw with the new Blob Brush tool. You'll not only learn how to "think in Illustrator" with the Zen of Illustrator lessons, you'll be guided in a wide range of techniques essential for mastering Adobe Illustrator. This edition is loaded with new artwork and lessons that cover:

Basic and advanced techniques with the new Multiple Artboards feature
Preparing Illustrator files for work in Photoshop
Working with the Gradient Annotator and transparency
Blob Brush tool artwork and integration with Live Paint
Blending modes and transparency
More masking with LiveType
Expressive brushwork and symbolism
Taking advantage of the improved Appearance panel
New lessons for creating glows and highlights
Creating photorealistic mesh
Table of Contents
1 Basics
2 Zen
3 Draw & Color
4 Beyond Basics
5 Brushes, Symbols
6 Layers, Appearances
7 Type
8 Blends, Gradients
9 Transparency
10 Live Color
11 Live Effects, Graphic Styles
12 Live 3D Effects
13 Adv Techniques
14 Web & Animation
15 Other programs
Errata
On the accompanying CD, go to:
Ch02-Zen > zen_lessons > zen_lessons_Layers_Scale_Rotate > 2a_Zen_Layers_Moving_Pasting.ai
Open this file and note that step #4 is incorrect in the keyboard shortcut for Windows machines. It should read 'CTRL-F', and not 'CTRL-X', in order to correctly paste in front.
FREE

TRIAL WITH PURCHASE!
---
By completing any purchase on Peachpit, you get unlimited 15 day access to thousands of Training Resources on creative topics You will also get a discounted rate of just $17.99/month if you decide to continue with a paid subscription.
Other Things You Might Like

eBook (Watermarked) $25.59

Book $31.99