Home > Store > Digital Photography > Workflow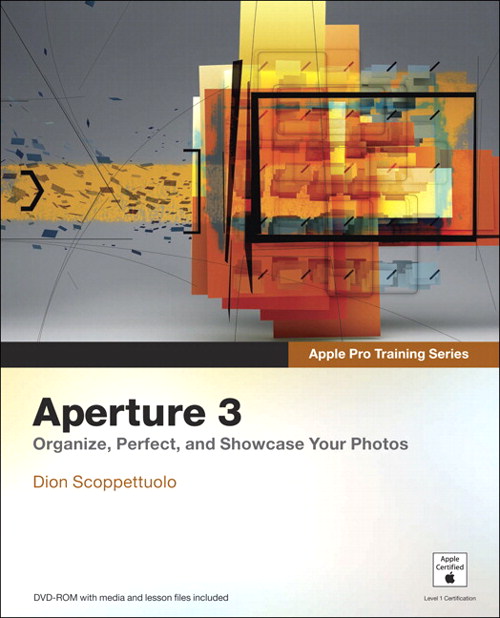 Share
|




Register your product to gain access to bonus material or receive a coupon.
Apple Pro Training Series: Aperture 3
Book
This product currently is not for sale.
Copyright 2010
Dimensions: 7-3/8 X 9-1/8
Pages: 504
Edition: 1st
Book
ISBN-10: 0-321-64744-0
ISBN-13: 978-0-321-64744-3
This Apple-certified guide to Aperture 3 starts with the basics of image management and takes you step by step through Aperture's powerful editing, retouching, proofing, publishing, and archiving features. It delivers comprehensive training - the equivalent of a three-day course - in one project-based book. With complete coverage of Aperture's new features, you'll learn to organize your photos using Faces, Apple's face detection and recognition tool, take advantage of Places to find photos by the location where they were shot, and retouch your images precisely with new nondestructive edge-aware brushes. You'll create advanced slideshows that include HD videos, titles, and layered soundtracks, and with the full-screen Browser you'll now be able to use every inch of your Mac display to browse and edit. Real-world exercises feature professional photography from a variety of genres, including fashion, sports, wedding, commercial, and landscape photography.


DVD-ROM includes lesson and media files for over 20 hours of training
Focused lessons take you step-by-step through professional, real-world projects
Accessible writing style puts an expert instructor at your side
Ample illustrations and keyboard shortcuts help you master techniques fast
Lesson goals and time estimates help you plan your time
Chapter review questions summarize what you've learned and prepare you for the Apple Certified Pro Exam
The accompanying disc requires Mac OS X v 10.5.8 or v 10.6.2 or later; Aperture 3;iPhoto '09, version 8.1 or later.

Online Sample Chapter
Indexing Photos Using Faces and Places in Aperture 3
Sample Pages
Download Lesson 4 Indexing Photos Using Faces and Places
Table of Contents
Getting Started
Creating and Organizing Your Photo Library
Lesson 1. A Quick Tour of Aperture
Lesson 2. Adding and Managing Metadata
Lesson 3. Comparing and Evaluating Images
Lesson 4. Indexing Photos Using Faces and Places
Lesson 5. Managing Projects and the Library Corrective and Creative Image Editing
Lesson 6. Performing Nondestructive Editing
Lesson 7. Correcting Tone
Lesson 8. Correcting Color
Lesson 9. Making Local Adjustments with Brushes
Lesson 10. Working with RAW Images Sharing Your Work
Lesson 11. Creating Dynamic Slideshows
Lesson 12. Presenting Your Photos on the Web
Lesson 13. Delivering Final Images as Books, Prints, and Files
Appendix A Setting Up Your Work Environment
Appendix B Expanding Aperture Functionality
Glossary
Index
Errata
Getting Started, page xii, paragraph 3 should say:
Course Structure
This book is designed to teach you to use Aperture using 13 project-based, step-by-step lessons and accompanying media files. It's important to complete each lesson before going onto the next; changes that you make to files in each chapter will affect work you do in subsequent lessons. The book is divided into three sections, as follows:...
Under System Requirements on page xiii, add:
iPhoto '09, version 8.1 or later
Chapter 1 mistakenly appears to have missing images even though the images are indeed on the book's companion disc. Because of recent software updates, images with three-digit names are not imported or shown in the Import browser. Here are two solutions:
Solution One
Replace the Lesson 01 folder that came with the book with this new file (213 MB, .zip). It contains files with four-digit names (for instance, IMG_063 becomes IMG_0063). Be aware that it will make the filenames slightly different from some of the references in the book.
Solution Two
Locate the APTS Aperture book files folder on your Mac
Double click Lesson 01 folder and double click the Memory_Card.dmg
If Aperture does not open, click it in the Dock to open it.
Follow lesson 01 in the book (specifically pages 10, 11, and 12) to import the images that are shown and name the Project correctly. DO NOT CLICK EJECT AS STATED IN STEP 4 ON PAGE 12.
Click Done instead of clicking Eject.
In the Mac OS X Finder, select the DCIM folder in the NO-NAME disk image that appears on your desktop
Drag the first five images (063, 073, 079, 081, 083) into the large viewer. This should import the images directly into the san diego zoo project and in the correct order. You can now eject the No_Name disk image. You should be able to pick up the lesson starting on page 13 "Working with images in the Browser." There are no additional three-digit images in the book, so you should be fine proceeding through the rest of the book.
FREE

TRIAL WITH PURCHASE!
---
By completing any purchase on Peachpit, you get unlimited 15 day access to thousands of Training Resources on creative topics You will also get a discounted rate of just $17.99/month if you decide to continue with a paid subscription.
Other Things You Might Like


eBook (Watermarked) $28.79

eBook (Watermarked) $15.99