Home > Store > Digital Audio, Video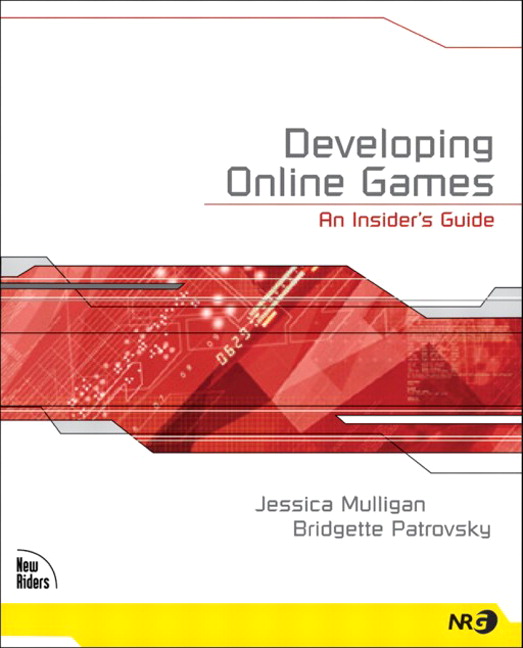 Share
|




Register your product to gain access to bonus material or receive a coupon.
Developing Online Games: An Insider's Guide
Book
This product currently is not for sale.
Copyright 2003
Dimensions: 7-3/8" x 9-1/8"
Pages: 528
Edition: 1st
Book
ISBN-10: 1-59273-000-0
ISBN-13: 978-1-59273-000-1
A soup-to-nuts overview of just what it takes to successfully design, develop and manage an online game. Learn from the top two online game developers through the real-world successes and mistakes not known to others. There are Case studies from 10+ industry leaders, including Raph Koster, J. Baron, R. Bartle, D. Schubert, A. Macris, and more! Covers all types of online games: Retail Hybrids, Persistent Worlds, and console games.
Developing Online Games provides insight into designing, developing and managing online games that is available nowhere else. Online game programming guru Jessica Mulligan and seasoned exec Bridgette Patrovsky provide insights into the industry that will allow others entering this market to avoid the mistakes of the past. In addition to their own experiences, the authors provide interviews, insight and anecdotes from over twenty of the most well-known and experienced online game insiders. The book includes case studies of the successes and failures of today's most well-known online games. There is also a special section for senior executives on how to budget an online game and how to assemble the right development and management teams. The book ends with a look at the future of online gaming: not only online console gaming (Xbox Online, Playstation 2), but the emerging mobile device game market (cell phones, wireless, PDA).
FREE

TRIAL WITH PURCHASE!
---
By completing any purchase on Peachpit, you get unlimited 15 day access to thousands of Training Resources on creative topics You will also get a discounted rate of just $17.99/month if you decide to continue with a paid subscription.
Other Things You Might Like

By Ernest Adams
eBook (Watermarked) $7.20

By Ernest Adams
eBook (Watermarked) $7.20

By Ernest Adams
eBook (Watermarked) $7.20