Home > Store > Digital Audio, Video > Adobe Premiere Pro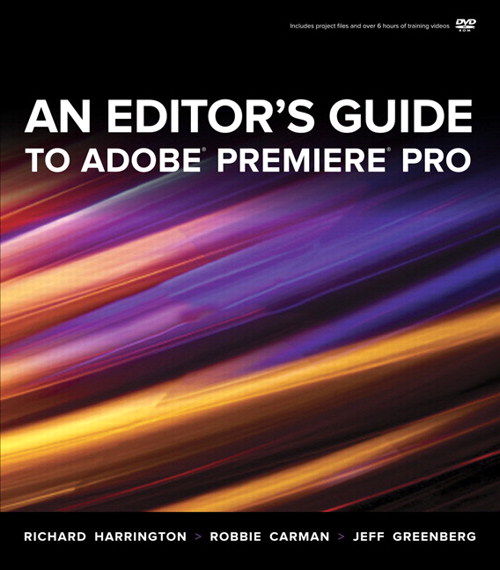 Share
|




Register your product to gain access to bonus material or receive a coupon.
Editor's Guide to Adobe Premiere Pro, An
Book
Your Price: $43.99
List Price: $54.99
Usually ships in 24 hours.
Copyright 2011
Dimensions: 8" x 9-1/8"
Pages: 352
Edition: 1st
Book
ISBN-10: 0-321-77301-2
ISBN-13: 978-0-321-77301-2
If you're an experienced editor who wants to get up to speed on Adobe Premiere Pro, then look no further than this fast-paced but thorough guide to Adobe's flagship editing program. Enjoy the ride as three experienced editors take you step by step through the entire editing process in Adobe Premiere Pro. You'll learn to perform professional editing tasks such as project management, multi-format editing, color correction, audio mixing, titling, effects, and delivering your video onto tape, the web, and mobile devices. Plus the whole process moves at an accelerated pace so you can get back to editing even faster. Within a weekend, you'll learn everything you need to know to use Adobe Premiere Pro confidently for your own projects and client work.

In this no-fluff guide to Adobe Premiere Pro, you'll learn to:
• Quickly import your existing Final Cut or Avid projects, or create new projects to use right away in Adobe Premiere Pro
• Work within the Adobe editing environment, with powerful insight into applications such as Adobe Photoshop, Adobe After Effects, Adobe Audition, Adobe Media Encoder, Dynamic Link, and Adobe Story
• Edit your footage the way you like but with workflow advice from a nonlinear editing team with more than 50 years of combined experience
• Put your advanced editing skills to work immediately by using the accompanying hands-on lesson files to work through the steps in the book
• Improve your knowledge through engaging video tutorials, handy quick-reference guides, and keyboard shortcut sheets all made available on the book's DVD


Online Sample Chapter
An Editor's Guide to Adobe Premiere Pro: Importing Media
Downloadable Sample Chapter
Table of Contents
Chapter 1 The Adobe Workflow
Meet Adobe Premiere Pro
Creative Suite Production Premium
Editing Workflow
Next Steps

Chapter 2 Configuring Your Nonlinear Editor
Notable Preferences
Keyboard Shortcuts
Mercury Playback Engine Performance
Monitoring and Capture Solutions
Next Steps

Chapter 3 Setting Up a Project
The New Project Panel
Creating a Sequence
Modifying an Existing Project's Settings
Importing Existing Projects
Next Steps

Chapter 4 Importing Media 55
Importing Files into Adobe Premiere Pro
Tape-based Workflows
Tapeless Workflows
Supported File Types
Modifying Clips
An Introduction to Dynamic Link
Next Steps

Chapter 5 Organizing Media
Understanding the Project Panel
Searching for Clips
Working with Bins
Customizing Bin and Clip Views
Creating Subclips
Get Organized with Metadata
Organizing Clips with Content Analysis
Next Steps

Chapter 6 Essential Editing Skills
Using the Source Monitor
Navigating the Timeline .
Essential Editing Commands
Next Steps

Chapter 7 Additional Editing Skills
Four-point Editing
Retiming Clips
Replacing Clips
Time-saving Editing Techniques
Next Steps

Chapter 8 Timeline Operations
Selecting Clips
Moving Clips
Extracting and Deleting Segments
Adding Transitions
Next Steps

Chapter 9 The Power Is in the Trim
Basic Trimming
Rippling Edits
Rolling Edits
Slipping Edits
Sliding Edits
Using the Trim Monitor
Making Split Edits
Maintaining Sync
Next Steps


Chapter 10 Color Correction and Grading
Using Video Scopes
Getting to Know Adobe Premiere Pro's Color and
Exposure Effects
Primary Color Corrections
Secondary Color Corrections
Using After Effects and Photoshop to Correct
Next Steps

Chapter 11 Audio Mixing and Repair
Setting Up the Interface to Work with Audio
Adjusting Audio Levels on a Sequence
Using the Audio Mixer
Using Audio Effects
Working with Adobe Audition
Next Steps

Chapter 12 Essential Effects
The Role of Effects
Understanding Keyframes
Selected Effects
Next Steps

Chapter 13 Creating Titles
Video Typography Essentials
Using Adobe Premiere Pro's Titler
Advanced Titling with Photoshop
Animated Titles with Adobe After Effects
Next Steps

Chapter 14 Quality Control and Archiving
Eliminating Mistakes
Broadcast Legalization
Practical Media Management
Next Steps

Chapter 15 Publish Your Video
Exporting a Master Copy
Outputting to Tape
Meet Adobe Media Encoder
Creating Flash Content
Creating H.264 Content for Devices and Web Delivery
Publishing to DVD and Blu-ray
Exporting Additional File Types
Next Steps

Index

On The Disc
Appendix A Multicamera Editing
Appendix B DS LR Workflow Guide
Appendix C Capturing from Tape-based Formats
Appendix D Working with Final Cut Pro
Appendix E Working with Avid Media Composer

Keyboard Shortcuts
Audio
Capturing
Marks and Markers
Project and Media Management
Multi-camera Editing
Trimming and Timeline
Titling
Tools



FREE

TRIAL WITH PURCHASE!
---
By completing any purchase on Peachpit, you get unlimited 15 day access to thousands of Training Resources on creative topics You will also get a discounted rate of just $17.99/month if you decide to continue with a paid subscription.
Other Things You Might Like


eBook (Watermarked) $44.79