Home > Store > Digital Photography > Workflow
From Still to Motion: A photographer's guide to creating video with your DSLR
Published Mar 17, 2010 by New Riders. Part of the Voices That Matter series.

Copyright 2010
Dimensions: 8 X 9-1/8
Pages: 336
Edition: 1st

Book
ISBN-10: 0-321-70211-5
ISBN-13: 978-0-321-70211-1
Register your product to gain access to bonus material or receive a coupon.
Product Author Bios
James Ball is a director of photography for HBO, National Geographic, Discovery Channel, and PBS (onlinejamesball.com). His work ranges from feature-length documentary projects to dramatic features to corporate projects.

Robbie Carman is a professional colorist who works on broadcast television series. He is a principal at Amigo Media (amigomediallc.com), a well-known trainer, author, and speaker at industry conferences, and the Creative COW forum host for DSLR video and Apple Color.

Matt Gottshalk is the principal of McGee Digital Media (mcgeedigital.com), which specializes in cinema-style HD production and post. He is a lighting director and camera assistant for a variety of clients and an active member of the dvxuser.com community.

Richard Harrington is a director and editor. He is a Creative COW forum leader, a member of the NAPP Instructor Dream Team, and a popular author, trainer, and speaker.



Video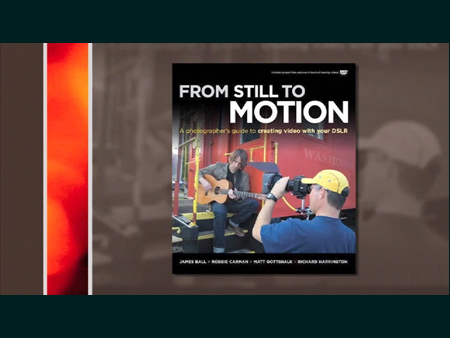 You need to upgrade your Flash Player. You need version 9 or above to view this video. You may download it here. You may also see this message if you have JavaScript turned off. If this is the case, please enable JavaScript and reload the page.
Book and accompanying DVD with over six hours of video training—all geared to teach you everything about shooting video with your DSLR

With the arrival of high-definition video-enabled DSLR cameras, photographers are faced with an opportunity for creativity and a competitive edge in their field unlike anything they've experienced before. Add to that the expanding demands from a video-hungry audience and it's no longer a matter of if you are going to add video to your repertoire of skills, it's when.

Here to guide you in a thorough exploration of the video-making process — from preproduction to post — and to ease your transition from still to motion are four veterans who speak the language of both photography and video fluently. With their clear, instructive approach, they quickly get you up to speed on everything from picking your gear, to properly lighting for motion, to using professional-level audio, color correction, and editing techniques, to media management and outputting, and much more. Here are just a few highlights from this richly illustrated, completely interactive book and DVD:

Explores the entire spectrum of video for DSLR camera owners, with recommendations on gear, planning, lighting, lenses, audio, editing, color correcting, exporting, media management, and more.
Covers a wide variety of shooting styles, including indoor, outdoor, studio, portrait, event, and available light.
Addresses technical challenges associated with DSLR video, such as camera movement, multiple camera coverage, low-light videography, and synchronized sound.
Explores additional creative techniques such as stop motion and timelapse photography in depth.
Includes a real-world example of a music video and promo package throughout the book to demonstrate concepts in action, with additional profiles of photography experts in nature, sports, commercial, and weddings and events.
The accompanying DVD contains over 6 hours of video training that delves deeper into each topic, as well as high-definition footage, hands-on project files, and templates to experiment with and follow along.
Share your work and communicate with other readers at www.facebook.com/dslrvideo.
Customer Reviews
13 of 14 people found the following review helpful
For true beginners
,
April 10, 2011
This review is from:

From Still to Motion: A photographer's guide to creating video with your DSLR (Voices That Matter) (Paperback)
This book seemed like a great book for someone who has already been into film making but just bought a new dslr. I guess I should of focused on the title more. The book is truly for the photographer that knows nothing of recording video. The book itself didn't teach me anything I didn't already know about film making because it was very basic stuff. I was hoping that the book would get in depth about how to really get the most of the dslr but I feel like they hardly discussed the workings of a dslr camera. Most of the book could of pertained to any video camera.
On a good note, there was a few chapters that really focused on dslr cameras. The chapters about lenses, and video technology were good. The rest of the book was about basic lighting, sound, tripods, rigs, editing, etc...
I think that if you have little experience in video recording than this might be the book for you. However, if you feel that you know the basics of film making such as 3-point...
Read more
28 of 35 people found the following review helpful
The Only HDSLR Book You'll Ever Need
,
April 17, 2010
This review is from:

From Still to Motion: A photographer's guide to creating video with your DSLR (Voices That Matter) (Paperback)
Listen, I'm not much for pimpage. I mean, my pimp hand is strong, but I'm not in the habit of shilling products or hawking gear. (There's enough people doing that.) But when I come across something I really think is useful...no, indispensable...well that I have to share.
If you shoot on HDSLRs, you need to buy the new book "From Still To Motion..." by Matt Gottshalk, Robbie Carman, Jim Ball and Richard Harrington. LINK At just over $30, it may be the single best shooter's resource for DSLR shooting available. Period.
(Don't get me started on how poorly-named the book is. The title makes it sound like just a photographer's guide, but it most certainly is not. It's for anyone who picks up a DSLR with the goal of shooting and putting together quality work.)
Written by working pros who deal with all aspects of production, the book takes you from start to finish, from lens selection to workflow and final output. It is the most thorough resource out there,...
Read more
7 of 7 people found the following review helpful
The BEST most complete guide out there...and CURRENT!
,
April 3, 2010
By
Angel Burns "fine art photographer & filmmaker"
(Los Angeles, CA) -
See all my reviews
This review is from:

From Still to Motion: A photographer's guide to creating video with your DSLR (Voices That Matter) (Paperback)
Rich Harrington and the gang have put together a PHENOMENAL and very thorough manual on the latest in HDSLR photography right now. It contains so much, including the thoughtful, artistic side of filmmaking along with the technical info (even down to specific plug-ins and software recommendations, links, tutorials and the wealth of material on the included DVD). Can't imagine how much work this must have been to collate, but I am grateful and will definitely be referring this to friends. If you want the latest details on how to be a (successful) early adopter of this technology, From Still to Motion will save you time, trial, research and loads of cash. There are also DIY tips for lighting! My favorite cheap cheat was the Chinese paper globes for soft background lighting. If you are looking to get into a pro setup, you'll do it confident in your purchases. I like how the book allows you to scale your experience depending on your level of expertise, financial investment, crew size,...
Read more
Share your thoughts with other customers:
›
See all 44 customer reviews...
Praise For From Still to Motion: A photographer's guide to creating video with your DSLR
"If you've been looking for the one book that teaches you how to bring DSLR video into your workflow, this is the only one on the topic I'm telling my friends to buy."
– Scott Kelby, photographer, author, president of the National Association of Photoshop Professionals (NAPP)
"Whether you're a seasoned professional or a novice still photographer...this book has the answers you need, even if you don't know you need them yet."
– Scott Bourne, Publisher, Photofocus.com
Online Sample Chapter
Creating Video with Your DSLR: Playing with the Light: Bringing Your Subject to Life
Table of Contents
PART I: A New Way to Tell Stories
Chapter 1: So You Want to Make Movies? An Evolution of an Art Form
Chapter 2: Sequential Images: It's No Longer Just About the Shot
Chapter 3: Before You Roll: Planning for the Shoot
Chapter 4: Understanding Video: A Crash Course in Picture and Sound
PART II: Cinematic Lighting
Chapter 5: Playing with the Light: Bringing Your Subject to Life
Chapter 6: Using What You Got: Making the Most of Available Light
PROFILE: Bob Krist
Chapter 7: Budget Lighting: Make it Good, Fast, and Cheap
Chapter 8: Compact Lighting: Compact and Lightweight Solutions
PROFILE: Syl Arena
PART III: Gearing Up for Motion and Sound
Chapter 9: Camera Body: What to Choose When It's Video You Want
Chapter 10: Selecting Lenses: Cinema Has Different Demands On Your Glass
PROFILE: Chelsea Nicole
Chapter 11: Basic Camera Support: Get a Steady Shot
Chapter 12: Advanced Camera Support: Putting the Camera Into Motion
PROFILE: James Longley
Chapter 13: Audio is Half the Story: Great Sound is Essential
Chapter 14: Field Storage: Capture Securely
PART IV: Post Production
Chapter 15: Media Management
Chapter 16: Editing Picture and Sound
Chapter 17: Color Grading
Chapter 18: Publishing Your Video
PART V: Advanced Techniques
Chapter 19: Stop Motion Photography
Chapter 20: Time-lapse Photography
Downloadable Sample Chapter
Purchase Reward: 15 Day Trial to Creative Edge
By completing any purchase on Peachpit, you become eligible to try out
Creative Edge
free for 15 days.
Get unlimited online access to thousands of training resources on creative topics. You will also get a discounted rate of just $17.99/month if you decide to continue with a paid subscription.
Other Things You Might Like