Home > Store > Digital Photography > Workflow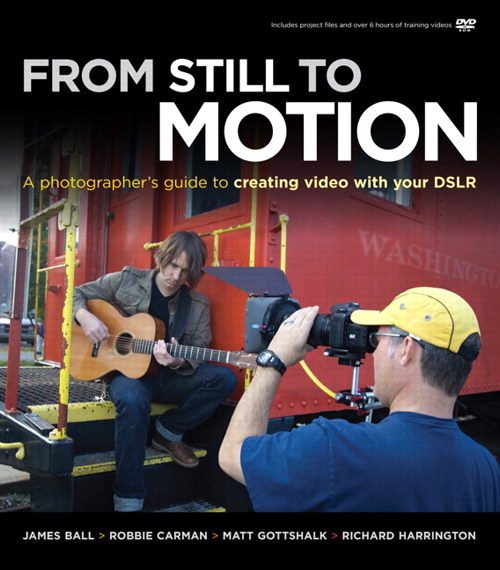 From Still to Motion: A photographer's guide to creating video with your DSLR
Video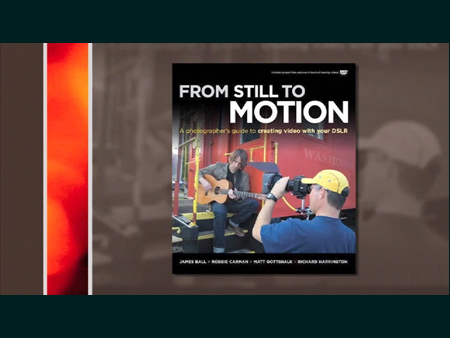 You need to upgrade your Flash Player. You need version 9 or above to view this video. You may download it here. You may also see this message if you have JavaScript turned off. If this is the case, please enable JavaScript and reload the page.

Copyright 2010
Dimensions: 8 X 9-1/8
Pages: 336
Edition: 1st
Book
ISBN-10: 0-321-70211-5
ISBN-13: 978-0-321-70211-1
Book and accompanying DVD with over six hours of video training—all geared to teach you everything about shooting video with your DSLR

With the arrival of high-definition video-enabled DSLR cameras, photographers are faced with an opportunity for creativity and a competitive edge in their field unlike anything they've experienced before. Add to that the expanding demands from a video-hungry audience and it's no longer a matter of if you are going to add video to your repertoire of skills, it's when.

Here to guide you in a thorough exploration of the video-making process — from preproduction to post — and to ease your transition from still to motion are four veterans who speak the language of both photography and video fluently. With their clear, instructive approach, they quickly get you up to speed on everything from picking your gear, to properly lighting for motion, to using professional-level audio, color correction, and editing techniques, to media management and outputting, and much more. Here are just a few highlights from this richly illustrated, completely interactive book and DVD:

Explores the entire spectrum of video for DSLR camera owners, with recommendations on gear, planning, lighting, lenses, audio, editing, color correcting, exporting, media management, and more.
Covers a wide variety of shooting styles, including indoor, outdoor, studio, portrait, event, and available light.
Addresses technical challenges associated with DSLR video, such as camera movement, multiple camera coverage, low-light videography, and synchronized sound.
Explores additional creative techniques such as stop motion and timelapse photography in depth.
Includes a real-world example of a music video and promo package throughout the book to demonstrate concepts in action, with additional profiles of photography experts in nature, sports, commercial, and weddings and events.
The accompanying DVD contains over 6 hours of video training that delves deeper into each topic, as well as high-definition footage, hands-on project files, and templates to experiment with and follow along.
Share your work and communicate with other readers at www.facebook.com/dslrvideo.

Online Sample Chapter
Creating Video with Your DSLR: Playing with the Light: Bringing Your Subject to Life
Downloadable Sample Chapter
Download "Playing with the Light"
Table of Contents
PART I: A New Way to Tell Stories
Chapter 1: So You Want to Make Movies? An Evolution of an Art Form
Chapter 2: Sequential Images: It's No Longer Just About the Shot
Chapter 3: Before You Roll: Planning for the Shoot
Chapter 4: Understanding Video: A Crash Course in Picture and Sound
PART II: Cinematic Lighting
Chapter 5: Playing with the Light: Bringing Your Subject to Life
Chapter 6: Using What You Got: Making the Most of Available Light
PROFILE: Bob Krist
Chapter 7: Budget Lighting: Make it Good, Fast, and Cheap
Chapter 8: Compact Lighting: Compact and Lightweight Solutions
PROFILE: Syl Arena
PART III: Gearing Up for Motion and Sound
Chapter 9: Camera Body: What to Choose When It's Video You Want
Chapter 10: Selecting Lenses: Cinema Has Different Demands On Your Glass
PROFILE: Chelsea Nicole
Chapter 11: Basic Camera Support: Get a Steady Shot
Chapter 12: Advanced Camera Support: Putting the Camera Into Motion
PROFILE: James Longley
Chapter 13: Audio is Half the Story: Great Sound is Essential
Chapter 14: Field Storage: Capture Securely
PART IV: Post Production
Chapter 15: Media Management
Chapter 16: Editing Picture and Sound
Chapter 17: Color Grading
Chapter 18: Publishing Your Video
PART V: Advanced Techniques
Chapter 19: Stop Motion Photography
Chapter 20: Time-lapse Photography


ONE MONTH ACCESS!
WITH PURCHASE
---
Get unlimited 30-day access to thousands of Books & Training Videos about technology, professional development and digital media If you continue your subscription after your 30-day trial, you can receive 30% off a monthly subscription to the Safari Library for up to 12 months.